'The Bomber': New Rolling Stone Cover Gives Boston Terrorist Dzhokhar Tsarnaev The Rock Star Treatment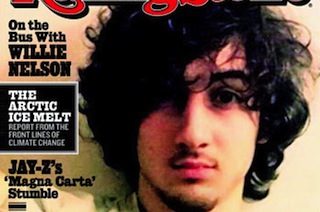 Alleged Boston marathon bomber Dzhokhar Tsarnaev must have a new album out, because he's got quite the cover placement on next week's issue of Rolling Stone.
Next to a headline reading "The Bomber: How a Popular, Promising Student Was Failed By His Family, Fell Into Radical Islam and Became a Monster," Rolling Stone's cover shows Tsarnaev like some cross between Jim Morrison and Gavin Rossdale. (The photo itself has already appeared in print, just not on the cover of a magazine usually reserved for rock stars pop stars.) One twitterer helpfully juxtaposed the new issue with an iconic cover of the Doors singer: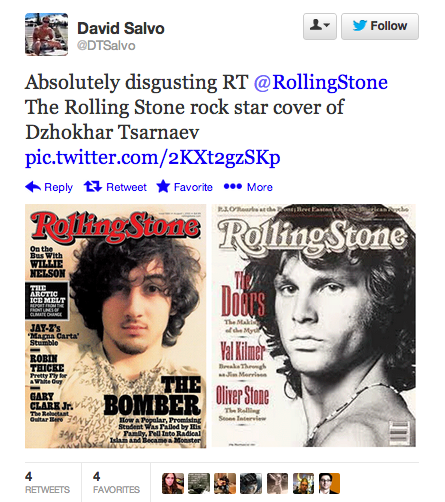 Suffice it to say, the cover is not going over well. Rolling Stone's website has been bombarded by complaints (including one that posted a picture of brother Tamerlan Tsarnaev's charred corpse as counterbalance), and a Facebook page created to push a boycott has garnered almost 15,000 likes at the time of this writing.
As Boston Magazine points out, even the strange group of Tsarnaev fans object to it, with one supporter tweeting, "Lawyers Jahar should file a lawsuit against the @RollingStone. After all, Jahar is innocent until proven otherwise! #Justice4Jahar"
The story, "Jahar's World," sounds significantly more interesting the link-bait cover. In a preview, the magazine says the Janet Reitman article will cover, among other things:
• Around 2008, Jahar's older brother Tamerlan confided to his mother that he felt like "two people" were inside him. She confided this to a close friend who felt he might need a psychiatrist, but Zubeidat believed that religion would be the cure for her son's inner demons and growing mental instability, and pushed him deeper into Islam.

• Jahar's high school, Cambridge Rindge and Latin, is famously diverse, but Jahar played down the fact that he was a Muslim. As his brother and mother became more religious, he did, however, attend a small Friday prayer group that met at lunchtime, and once got quite upset when a friend who'd converted to Islam talked about it in a casual way. "Islam wasn't casual to Jahar," says one friend. "He took his religion seriously."
Read the full article HERE, via Rolling Stone.
[h/t Boston Magazine]
—
>> Follow Evan McMurry (@evanmcmurry) on Twitter
Have a tip we should know? tips@mediaite.com