This photo is a solved mystery; a compact set of clues and information revealing the incidental way in which it came to be. Looking closely at it reveals the big picture — a trolley headed through New York's Midtown West (note the '59th St. & 7th Ave.' destination sign) sometime in the early 20th century. But it reveals the details of life in the city: newsboys selling the paper to a disinterested audience, the challenges of public transportation, ads for theater and bow ties. Imagine having your picture taken by a tourist while you're getting on the bus. Now imagine people looking at it a century from now.
Acquired by the Library of Congress in 1948 from the Bain News Service the above image sat, for much of the intervening sixty years, in sheltered seclusion in Washington, D.C., rarely seen or noticed. Then along came the Web.
Last January, Flickr created a process to collect public-domain images from institutions dedicated to preserving cultural heritage. Starting with images from the Library of Congress, The Commons, as Flickr refers to it, now includes images from a broad range of international groups, with a heavy emphasis on photographic history, including the National Media Museum, the Smithsonian, the George Eastman House, the National Galleries of Scotland, the National Archive of the Netherlands, and the Brooklyn Museum. The contributions of each group tend to be thematic, if a bit random, creating an overall collection with no unifying theme save one: chronicling human and photographic history.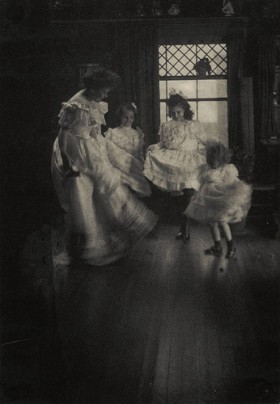 The Commons doesn't suffer for its diversity. It's a constant revelation — fascinating moments you wouldn't have expected to be interesting, such as turn-of-the-century children learning to dance, or incredible things you never knew existed (case in point: an image from when Japanese terrorists (!) held the French embassy at The Hague hostage).
I discovered The Commons last year when I stumbled across a photo of a group of schoolchildren standing on a boulevard. The image, from the Eastman collection, was taken about 100 years ago in my hometown of Rochester, New York. I found myself puzzling for hours over which intersection was represented in the photo; ultimately, with my sister's help, determining the answer.
Which is where the true beauty of The Commons emerges. Built on top of a socially-networked photo sharing site, details about photos emerge from the collective wisdom of site visitors. In a photo titled "Burying Binghamton Dead", a group of coffins is assembled in a graveyard, a silent crowd looking on. Site visitors quickly deduced the reference point: a 1913 fire in a clothing factory that killed 31 people. Another photo showing five urchins cooling their heels in a puddle beneath an elevated track was undated – until a Flickr user noticed the reversed date that had been written on the negative. In a bird's eye look at New York's East Village, users have spotted signs, landmarks, train stations — even people hanging laundry on apartment rooftops.
This is why The Commons exists: to present but, more importantly, to flesh out our photographic history. On a website which, earlier this month, saw the iPhone became its most popularly used camera, century-old photos are presented for consideration by fresh eyes — and are rewarded with a richer sense of why and when they were created.

Philip Bump is a technology and communications consultant in New York City who will be writing an occassional column for Mediaite about the intersection of history and the Internet called "The Wayback Machine." Follow him on Twitter here.
Have a tip we should know? tips@mediaite.com