'The Country Is Divided and Then He Picks One of the Most Divisive People': Joy Behar Slams Bannon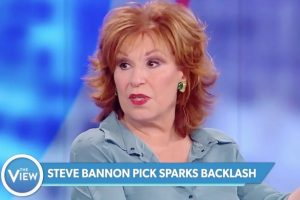 On ABC's The View today, the women got to work discussing the appointment of Breitbart's Stephen Bannon as Donald Trump's chief strategist. To catch you up, his appointment is a very, very hot topic because of the alt-right nature of the site under his leadership. Most notably, many of the headlines and pieces were straight-forward in their anti-Semitism and sexism. There was a "black crime" section on the site for a long time. His appointment has sparked pure fury from a number of pundits and high-ranking media officials on both sides of the aisle and that list of people now includes Joy Behar.
Behar criticized the selection, saying, "The big thing you keep hearing is the country is divided and then he picks one of the most divisive people in the country. That's what's bizarre about it. Pick somebody who's a uniter!"
Candace Cameron-Bure said that maybe Bannon was chosen as a counterpart to new Chief of Staff Reince Priebus because they would "keep each other in check."
Behar wasn't having it and read a one of Breitbart's infamous headlines, the one that called Bill Kristol a "renegade Jew."
"Why does he have to say Bill Kristol's a Jew? What does that have to do with anything?"
Cameron-Bure said that the headline was just sensationalist clickbait. Before the ladies could tackle that, though, Jedediah Bila chimed in to say that her relationship with Bannon — whom she called Steve — gave her some insight.
Behar scoffed, "You're on a first-name basis with him?"
Bila explained that as someone who had contributed content to the site in the past, she had a very basic working relationship with him.
Watch above to see the whole thing play out.
[image: screengrab]
Have a tip we should know? [email protected]