The Daily Caller Vs. Washington Post: Was Menendez Prostitute Bribed Or Did WaPo Identify Wrong Woman?
Was Menendez Prostitute Bribed Or Did
WaPo
Identify Wrong Woman?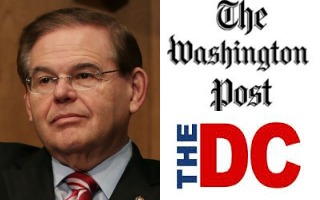 A bombshell report in the Washington Post on Monday claimed that one of two prostitutes alleged by The Daily Caller to have been patronized by Sen. Bob Menendez (D-NJ) stated in a court affidavit that she was paid to make that claim. Tuesday, The Daily Caller fired back at the Washington Post, saying that the paper simply "mistook one prostitute for another."

RELATED: Dominican Prostitute Who Said She Slept With Sen. Bob Menendez Now Says She Was Paid To Make That Claim
"While the Post said it had an affidavit from a woman in the Dominican Republic admitting she fabricated claims Menendez paid her for sex, that woman was not one of the two prostitutes TheDC interviewed for a Nov. 1 report," wrote The Daily Caller's executive editor, David Martosko.
The Post identified one of the prostitutes who was alleged to have provided Sen. Menendez with her services as Nexis de los Santos Santana.
Both women TheDC interviewed said they were 24 years old at the time — not 23 — and neither went by Nexis de los Santos Santana. They spelled out their names and ages on camera, in the presence of Dominican lawyer Melanio Figueroa.
In the affidavit, de los Santos claims she was "surreptitiously taped, but Martosko writes that both women were consenting when they were interviewed.
Figueroa, the attorney who accompanied the women during TheDC's video interviews, now stands accused of orchestrating the entire episode as part of a plot to use a phony divorce case to embarrass both Menendez and [Menendez donor Dr. Salomon] Melgen.
> >Follow Noah Rothman (@NoahCRothman) on Twitter
Have a tip we should know? tips@mediaite.com