Have you ever wanted an all-inclusive list of people who think that it's perfectly legitimate for a white woman to radically change her appearance, denounce her white relatives and ask a black man to pretend to be her father, and live her life as a black woman? Well, here it is!
Rachel Dolezal
Former Spokane NAACP head Rachel Dolezal thinks that Rachel Dolezal is black.
MSNBC host Melissa Harris-Perry (and author Alyson Hobbs)
Harris-Perry asked MSNBC panelists Saturday whether it is "possible that [Dolezal] might actually be black," asking whether someone can be "cisblack and transblack." Acedemic and author Alyson Hobbs agreed, saying there was "authenticity" to Dolezal's claim to be black.
The Atlantic's Ta-Nehesi Coates
Coates tweeted out a link to Mediaite's coverage of Harris-Perry's comments and gave the segment high praise.
I think we'd all be better off if weekend talk show hosts tried half as hard to think through shit as @MHPshow https://t.co/SWDsxumrSD

— Ta-Nehisi Coates (@tanehisicoates) June 13, 2015
Not being sarcastic either @blakehounshell. She's trying to figure it out. I appreciate it. Need more of that.

— Ta-Nehisi Coates (@tanehisicoates) June 13, 2015
He also went even further and declared that conservative radio host Glenn Beck was free to be Asian, and that race itself was a lie.
Sure it does. https://t.co/YxOyCoyj0O

— Ta-Nehisi Coates (@tanehisicoates) June 15, 2015
Re @jelani9's excellent piece I think the root problem is people don't get that race, itself, is a lie.

— Ta-Nehisi Coates (@tanehisicoates) June 15, 2015
Liberal radio host Earl Ofair Hutchinson
Hutchinson said on MSNBC's NewsNation with Tamron Hall that Dolezal was free to identify as a black woman or even a Martian, regardless of her DNA. Host Tamron Hall didn't go quite so far, but did wonder whether or not society was quickly reaching a "transracial point," and whether it was "politically correct" to call her a liar.
The View's Whoopi Goldberg and Raven-Symone
The pair defended Dolezal, with Goldberg comparing the issue to transgender individuals who identify as the opposite gender and Raven-Symone saying it wasn't necessary to have black skin in order to be black.
A Strong Majority of MSNBC Viewers
In an (admittedly unscientific) poll, 71% of MSNBC's daytime viewers say it's perfect fine for Rachel Dolezal to be transracial. Yes, really.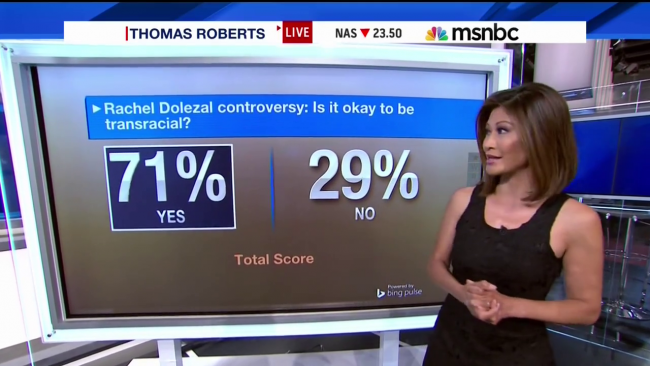 [Image created via Fotor]
Did we miss anyone? Email or tweet at the author to suggest additions, and this piece will be updated.
——
>> Follow Alex Griswold (@HashtagGriswold) on Twitter
Have a tip we should know? [email protected]