The Five Most Interesting Revelations From Roger Ailes Feature In New York Magazine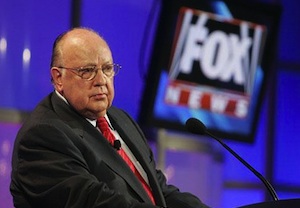 This week's issue of New York magazine includes an ambitious and thorough essay by Gabriel Sherman that provides an in-depth and fascinating portrayal of Fox News chief Roger Ailes. It is a must read for anyone curious about the inner-workings of the dominant cable news network, and includes a number of potentially game-changing revelations, a few of which have been outlined below.
Skeptical readers who might be quick to write off the essay as part of some sort of left-wing smear campaign need to understand a few things. The piece appears to be a balanced and well researched feature that wisely avoids a number of political generalizations and cliches that are typical of a hit piece. Sherman is a well respected reporter who has developed strong reputation within the cable news world from another lengthy piece he wrote on the cable news wars last Fall called "Chasing Fox."
The article includes lots of sharp accounts, though many of which are from unnamed sources. But the lack of negative feedback from Sherman's previous feature on cable news (particularly FNC) somewhat buttresses the accuracy of the anonymously sourced bits of the "warts and all" account. Here are five of the most interesting such morsels.
It Is Difficult To Imagine Sarah Palin's Future With Fox News: As we pointed out yesterday, perhaps the most interesting item that came from the article is that, according to an unnamed source, Roger Ailes apparently thinks Sarah Palin is an 'idiot.' The tragedy in Tucson (and inflamed political rhetoric that surrounded the shooting of Gabrielle Giffords and others) appears to have been a transformational moment in the relationship between Palin and Ailes, particularly when the former Alaska Governor openly sought Ailes' advice on how best to respond, then oddly chose to ignore it. If, in fact, Ailes thinks so poorly of Palin's intellectual capacity, and says nothing publicly to distance himself from these comments, it will be hard to see Palin continuing to contribute in a meaningful way on FNC. Update: Fox News' Bill Shine has released a statement to the NY Times rebutting this specific point. Read about it here.
Roger Ailes Really Wanted NJ Gov. Chris Christie To Run: According to Sherman, Ailes has recognized the less-than-impressive slate of GOP Presidential candidates, and invited the New Jersey Governor to his upstate manse (alongside Rush Limbaugh) to help convince him to run. Christie has been steadfast in staying out of the fray. Oh, by the way, reports out today suggest that President Obama's campaign staffers may already be gathering opposition research in the event that Christie ultimately decides to throw his hat into the ring.
The Relationship With Glenn Beck and Fox News Had Been Deteriorating For Some Time: As we've reported here before, the relationship between Beck and Fox News had grown rather tenuous in recent months. In fact, when Ailes came lose to firing the 5PM host when he felt like Beck's "advisers" were jerking him around (perhaps by leaking news that FNC executive Joel Cheatwood would be joining Beck's Mercury Arts?) Side note, it appears that much of the White House's problem with Beck wasn't so much because of his overheated rhetoric, but rather because of the success he had with derailing Van Jones (and the the mainstream media following suit.)
Bill O'Reilly "Can't Stand" Sean Hannity (and Neither Can Michelle Obama apparently): The rise of Glenn Beck's popularity and ratings seems to have rocked a rather fragile ecosystem of egos that comprises the Fox News prime time line up. Most notably, Bill O'Reilly reportedly "can't stand" Sean Hannity, who seemed to be most jealous of Beck's meteoric-but-abbreviated stint on Fox. Oh, and for good measure, First Lady Michelle Obama is not a fan of Hannity's either.
Roger Ailes Is Very Powerful, And Apparently Actually Does Run The GOP: The larger theme of the essay focuses on the dearth of viable GOP presidential candidates (presented in the context of a likely reelection for President Obama), and Ailes' concerns that, while he won the battle by creating a dominant cable news machine, he appears to be losing the larger war of getting a Republican president elected in 2012. Yes, we have called Roger Ailes the most powerful political person in America, and given how he appears to drive so many political narratives with his prodigious gut instinct, there is nothing in this article that will dissuade us from that position.
Read Sherman's entire piece at NYmag.com.
Update: the post has been edited to more accurately describe Sherman's previous and ongoing relationship with Fox News.
Have a tip we should know? tips@mediaite.com