Given the realities of the current economy, purchasing a home is a lot harder than it used to be. But if you think settling on one place to live is hard, imagine what it might be like trying to pick out a hundred thousand at once.
That's what this hypothetical from the Redfin Research Center proposes. They've taken the data from Forbes "400 Wealthiest" list and cross-referenced it against the median cost of homes in cities and towns around the country to determine which billionaires could buy every dwelling in a particular place if they so chose. The Walton Family, with a combined net worth of $154.8 billion could purchase every single one of the 241,450 homes in Seattle, and still have almost $40 billion left in the bank for walking around money. The Koch Brothers' $86 billion gives them plenty of room to spread out in Atlanta's 286,629 homes, while Bill Gates could purchase all of Boston's 114,212 for $76.6 billion, although it would almost bankrupt him. Bill Gates occupying every residence in Boston wouldn't drastically alter the city's racial makeup at any rate.
Others on the list don't fair quite so well in the fantastical IRL Risk board. Something tells me Ralph Lauren wouldn't be too happy in Worcester, Mass., never mind Rupert Murdoch in Peoria, Ariz.
The top 1% of America owns 42% of the nation's wealth, this might be a good time to remind you. The bottom 80% owns 7%.
"In this fictional real estate investment, the 30 billionaires on our list, with a combined fortune of $582 billion, could afford to own a staggering 6 percent of the total U.S. home equity," Redfin's Nela Richardson explained. Map below: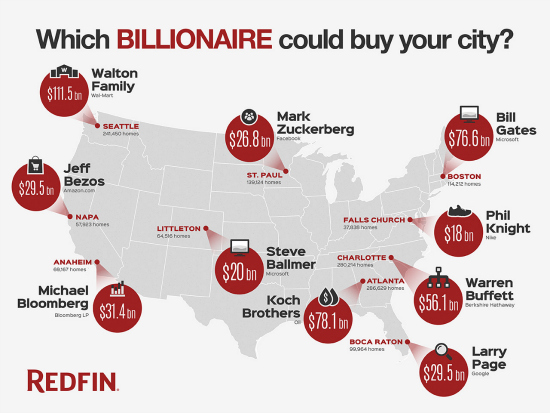 The numbers are obviously just a ballpark estimate. They arrived at their data by looking at sales in each city or town between April of 2013 and 2014 and extrapolating from there. The list they've compiled includes some 3,300 areas, including Watertown, Mass., where I live now, whose 11,000 odd homes could be had for the modest sum of $4.7 billion. Not bad. Steve Ballmer, whose $20.4 billion could have him purchasing up all of the land in Littleton, Co., for $20 billion, might have better spent the money he's going to use on the Los Angeles Clippers to pick up nearby Emery, Calif.
In other unrelated statistics, there are over 600,000 homeless people in the country.
[h/t Gawker]
— —
>> Luke O'Neil is a journalist and blogger in Boston. Follow him on Twitter (@lukeoneil47).
Have a tip we should know? [email protected]