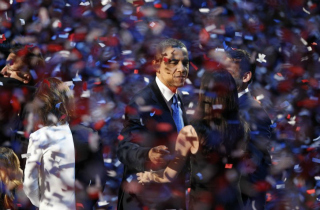 Two billion dollars of spending by both sides and two billion minutes of analysis later, the 2012 election ended in a Buckeye blink of an eye.
Same President, basically the same Senate and Congress, and a country divided as deep as any moment since the Civil War…
Money well spent, huh?
So while the fresh material a Romney Administration could have offered would have been better for business in the world of opinion journalism, the cable networks will just have to make do with boring ol' Barack Obama for four more years.
To that end, the narrative we've seen will remain the same: Fox, its ego bruised after all the calories it burned in (justifiably) pushing a Benghazi story that stunningly had zero effect on the race, will likely lead all of its programs with discussion/debate around fears of the fiscal cliff for the next two months. Continuous COUNTDOWN TO THE CLIFF clocks will be coming to a screen near you. Doom, gloom and justifiable fear over the country slipping back into a recession will all be part of a newly-minted buyer's remorse angle created by Roger Ailes and Company.
At MSNBC, they lose their biggest star in the form of Mitt Romney.
Chris Matthews — a man who was openly thrilled about the so-called political benefits of Superstorm Sandy that killed over 100 people, left millions without power and has destroyed thousands of homes here in my home state of New Jersey and New York — will need to replace crying "racism" and talking about imaginary dog whistles. In its place, expect tedious discussions around debt reduction and blaming Republicans for allowing another recession to happen on Obama's watch.
Lawrence O'Donnell loses Donald Trump to beat up on.
And The Cycle still gets to expose its audience to the awkward date it continues to be…
CNN? Well, they're like the Kansas City Chiefs of cable news. No real stars on the team, no real direction. Until they get a real quarterback (See: A big-time host who creates buzz and brings eyeballs to the screen), they'll continue to drift into oblivion, save for periodic coverage of natural disasters or an international crisis.
That said it appears they all will have their work cut out for them now that an election that began with the first Republican debate on May 5th is mercifully over.
That's MAY 5th, 2011, by the way…
So if election coverage and the dozens of debates that go with them bring huge ratings, and Barack Obama isn't the juicy target he used to be to attack or advocate (because of familiarity and not being able to run someone against him again) what else is there to do but…begin previewing the 2016 election RIGHT NOW?
Too early, you say?
Like Happy Hour on vacation, it's 5:00 o'clock somewhere…
In speaking to folks outside the cable news bubble (those who don't watch 24/7 due to emotional attachment/disgust for the other party), speculation over who should run (particularly on the Republican side) was a hot topic today. In an unscientific straw poll that Nate Silver would never use in his forecast models, four of my Republican friends want our Governor to run (Chris Christie), three prefer Marco Rubio, one said Paul Ryan, and two said (without ambiguity) that they didn't want to talk about politics in any capacity indefinitely (citing disappointment and burnout).
The Christie pick is understandable given the high marks he's received for his handling of Hurricane Sandy. Regardless, he was already popular given his track record of getting Jersey's corrupt and messy fiscal house in order following the forgettable tenure of Jon Corzine.
"He has zero filter and means what he says," one friend explained. "Democrats won't be able to demagogue him the way they did Romney. If they do, Christie would punch them in the mouth."
The Rubio pick is more of a tactical one. Exit polls show that without better support from Latinos, Republicans can't win an election against a Democrat who, say, increased the national debt by over $6 trillion on his watch, saw 23 million Americans out of work on Election Day and was seen by at least half the country as a divisive figure.
So Marco Rubio, with four more years in the Senate under his belt to thwart any questions around experience, is an attractive choice because of ethnicity. He's also seen by many in the party as true conservative who can draw sharp contrasts to a Democratic challenger. Romney, for all the enthusiasm that seemed to surround his campaign in the final days, stunningly couldn't even generate more votes than John McCain or Democrat John Kerry after moving to the center.
Speaking of Democrats, Hillary Clinton (6 straw votes) and Andrew Cuomo (2) were the only names mentioned in the aforementioned poll (two abstained for reasons cited).
Wow…wouldn't it be something if Cuomo and Christie emerged as the frontrunners in the 2016 race?
As if you didn't hear enough from New Yorkers and Joisey via reality TV, the cable news nets will absolutely make certain all of you loathe us even more by the time the 2016 election season begins in earnest about two years from now.
Of course, predictions in these situations are like predicting a World Series winner in April. After all, we had barely heard of Barack Obama after the 2004 election. What? A first-term African-American Senator is going to beat the Clinton machine for the 2008 nomination? Nonsense!
But that won't stop the networks from filling almost-round-the-clock political coverage by talking about 2016 early and often.
In the meantime, it'll be more of the same narrative.
President Obama, who now no longer inherits a bad economy, but owns it, now needs to work with the party he and his campaign so viciously demonized throughout the election season.
For Fox News, they'll be plenty of storylines and enough villians to keep the ratings high.
At MSNBC, the loss of the punching bags that was the Romney/Ryan ticket makes keeping shows from Morning Joe to Maddow as compelling as they were during the election a challenge.
Either way, after 18 months of buildup to Election Night, there's something all personnel at the networks have in common:
The need for a long vacation…
— —
>> Follow Joe Concha (@ConchSports) on Twitter
Have a tip we should know? [email protected]