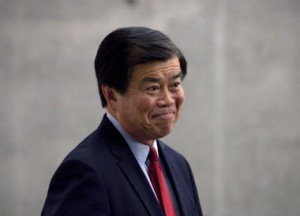 Upon hearing news that Oregon Congressman David Wu (D) is resigning following a string of odd behavior culminating in Wu sending staffers odd emails and photos of himself in a tiger suit, we realized, hey. It's been kind of a bad year for politicians prone to bouts of inappropriate or embarrassing behavior. Let us recap these worrisome scandals, so that you might either delight in these politicians' folly or learn from their mistakes.
You will recall, of course, that Rep. Chris Lee, a Republican representing New York's 26th congressional district, tried to find a ladyfriend on Craigslist by responding to a singles ad with a shirtless picture of himself. Lee, who is married and has a child, resigned very soon after. Oh well. At least he's "fit, fun and classy."
Former Democratic Rep. Anthony Weiner's name is synonymous with sex scandals for at least two reasons, one of which happens to be the picture of his genitals that he accidentally Tweeted, much to the horror and/or delight of his thousands of followers. The picture, which was apparently intended as a Direct Message to a young woman, showed Weiner's boxers and his namesake. That salacious (?) image turned out to be but the tip of the iceberg where Weiner's online flirtations were concerned. Weiner, who is expecting a child with his wife, eventually resigned amidst a whirlwind of puns.
And then there's Louisiana Councilman Joe Stagni, who sent a picture of himself to a city employee. Stagni came clean about his actions noting that "I had an inappropriate but consensual relation with an adult female and we exchanged improper electronic communications which ended (in) 2009."
And, last and possibly least, there's George Lepp, a Canadian politician whose scandal was all but overshadowed by Weiner's. Lepp found himself under scrutiny after a picture of male genitalia was posted to his Twitter account and later removed. Lepp insists the picture is not of him but, rather, the work of a pickpocket with a raunchy sense of humor.
Below, take a stroll down memory lane. All images are relatively safe for work, but might otherwise completely ruin your day.
[imageviewer id=80]
Have a tip we should know? tips@mediaite.com