The Most Unique and Unusual New Year's Eve Traditions from Around the World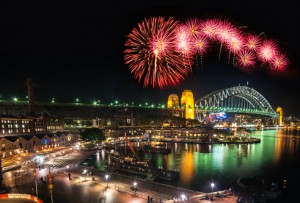 As we prepare to ring in the new year with the annual dropping of a giant ball in the nerve center of American capitalism, it might interest you to learn about the traditions in other countries when they ring in the new year, ranging from dressing up in elaborate costumes to throwing appliances out the window. We've curated some of the most interesting and unique New Year's Eve Traditions from around the world below.

But before we get to that, here's a fun fact: this year, the Times Square ball is being charged in part by bike power. So that's what all the Citi Bikes were for!
Anyway, here are some truly unique international New Year's Eve traditions:
Panama
Panamanians create muñecos, effigies of politicians and other famous people, and set them ablaze as a way of saying these are people you really don't want to care about in the upcoming year. Who would the U.S. burn if this was a custom here, I wonder…
Scotland
In Scotland, they hold a days-long party called Hogmanay, which involves hordes of people dressing up like Vikings.
Belarus
The unmarried women of Belarus participate in some games of skill to predict who will end up married within the next year. For example, one game involves piles of corn and a rooster; whichever woman the rooster approaches first is considered to be the first to marry.
Germany
Rather like the reading of tea leaves, one German New Year's Eve Tradition involves lead pouring, in which molten metal is poured into cold water, and whatever shape you end up with when it's cooled down is a symbol of what's to come for the new year.
Denmark
Denmark on New Year's Eve might be the only time you can smash your plates and not get anyone angry at you for it. But you're not throwing the plates in your own house, you're going to the homes of your friends and throwing plates at their doors to show how much you value them as a friend.
Philippines
One Filipino tradition is to wear polka dots on New Year's Eve, because round objects signify prosperity.
Mexico, Colombia, etc.
In countries like Mexico and Colombia, some people carry suitcases around the block as a way of welcoming new and exciting travels in the upcoming year.
Greece
Similar to a Mardi Gras trend, in Greece they bake a coin into a cake and whichever person has the coin in their slice is considered to have a lucky new year.
North Carolina
Okay, technically North Carolina isn't "international," but this one was too good to pass up. The town of Brasstown commemorates the new year with a "possum drop," which is exactly what you think it is. And despite protests by PETA, the tradition continues today. There was even a documentary about it.
South Africa
And finally, some residents of Johannesberg, South Africa have a tradition of throwing appliances out the window. This apparently ranges from toasters to actual full-sized couches.
[Editor's note: This post was originally published in 2013.]
[photo via Shutterstock]
— —
Follow Josh Feldman on Twitter: @feldmaniac
Have a tip we should know? tips@mediaite.com
Josh Feldman - Senior Editor