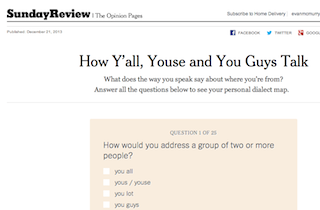 Pay Be nice to your interns—you never know when they might bring you traffic.
When the New York Times released its list of most-visited articles for 2013 a few days ago, the Atlantic spotted that the article leading the pack was actually a dialect quiz, one you will know as "that thing every single person on your Facebook wall posted with comments like 'I Got Cleveland!'" The quiz was so popular that it eclipsed the traffic of every other article on the Times' website for 2013 despite going live on December 21—in other words, it took only ten days to beat the rest of the year.
It turns out the writer responsible for the app was an intern. While a graduate student in statistics at North Carolina State University, Josh Katz posted some heat maps he'd made based off a 10-year-old Harvard dialect survey. The maps caught the eye of the Gray Lady, who invited him for a fall internship, during which Katz crafted, along with the paper's graphics department, the dialect quiz god and everybody took last month. (Read Knight Lab's post for a breakdown of how the app itself came to be.)
Like all grad students, Katz completed the project at the last moment—his internship was almost over by the time the app went live in late December.
Oh, and in case you're wondering what kind of reward an intern gets for crafting the most popular post of the year, the answer is a staff editor position.
[h/t Knight Lab]
[Image via screengrab]
——
>> Follow Evan McMurry (@evanmcmurry) on Twitter
Have a tip we should know? tips@mediaite.com