The Oscars Will Utilize Facebook to Offer Streaming of Show Straight From Audience's Phones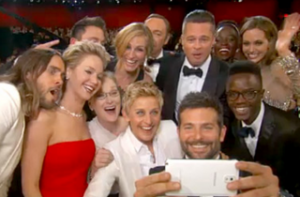 This week, ABC announced that Vice President Joe Biden would be introducing Lady Gaga's performance of "Til It Happens to You" at the Oscars on Sunday. I said to myself, "Maybe this is an effort to distract viewers from all the drama surrounding the event this year."
Today, they announced that the awards show will be streaming via Facebook Live, meaning people in attendance will be using their smartphones to broadcast the program in an unprecedentedly intimate way. I said to myself, "This is definitely an effort to distract viewers from all the drama surrounding the event this year."
According to Variety, this is meant to make viewers feel that they are actually in attendance. That's sort of ironic, considering how many actual celebrities won't be.
Facebook Live is a feature on the social media website that integrates livestreaming technology and allows any user to feed live video directly to their friends and followers. According to Monica Austin, the person in charge of Facebook's movie and television partnerships, this move was made in an effort to provide something new and fun to viewers. She said:
By embracing this new format, the Academy will give people at home a chance to go backstage, walk the red carpet and get an all access look at the show exclusively on the Academy's Facebook page.
That settles it, then. For all interested parties, I will be livestreaming my own self and Sam Reisman watching the Oscars right here at Mediaite. I will be streaming myself streaming and contemplating the nature of the digital age. It'll be a blast.
[image via screengrab]
For more from Lindsey, follow her on Twitter.
Have a tip we should know? tips@mediaite.com