The Trump Campaign Has 'Wound Down' Fundraising, Cutting Funding the GOP Needs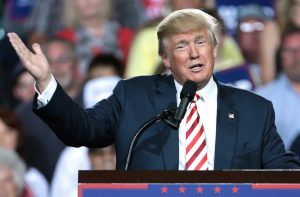 Donald Trump and his campaign have basically halted all big-money fundraising, which is an issue for the GOP, since that fundraising is what helps them with their final get-out-the-vote pushes in the last two weeks ahead of the general election. According to the Washington Post, Trump Victory, a joint fundraising committee between the party and the campaign, hasn't held a fundraiser since the 19th and doesn't plan to do another.
Steven Mnuchin, Trump's national finance chairman said they "wound down" that sort of fundraising but are on track to break a record for online campaign donations this month. That is particularly problematic for the Republicans because the party only gets 20% of online donations. When a check is sent to Trump Victory, though, it is usually routed to the party.
The GOP, then, is left largely on its own. Lindsay Walters, a spokesperson for the RNC, said that they "continue to fundraise for the entire GOP ticket."
For her part, Clinton will be doing her last big fundraiser tonight, but has 41 events planned over the next two weeks, many of which rely on big-name surrogates like Cher and Chelsea Clinton. Trump, on the other hand, has "virtually nothing" planned, according to Mnuchin. He explained the reasoning like this:
We have minimized his fundraising schedule over the last month to emphasize his focus on political [events]. Unlike Hillary, who has been fundraising and not out and about, he has constantly been out and about.
The entire WaPo report is worth a read, especially because it concludes by noting that while Trump has vowed to spend $100 million of his own money getting himself elected, but has thus far only spent $56 million.
[image via Gage Skidmore]
UPDATE — 11:04 p.m. EST:
Trump's senior communications advisor, Jason Miller, released the following statement in response to reports that the fundraising for Trump Victory has stopped:
All fundraising, large and small including our Victory effort, will continue through the end of the election.
Per the campaign, the fundraising will continue.
Have a tip we should know? tips@mediaite.com