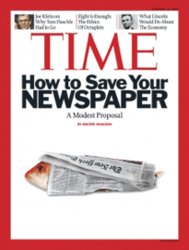 During a discussion at University of Southern California's Annenberg School for Communication, investor Gordon Crawford claimed that Time Warner would eventually sell-off their print unit Time Inc., renewing lots of speculation about the print giant's future. The innocuous comment seemed like a throw away line to some; but it not only sent shock waves in media circles, it also forced many to predict a future that, frankly, no one really yet knows.
The relative frenzy about the publishing giant's future was started by the following Reuter's item:
CHICAGO (Reuters) – Time Warner Inc will eventually sell the Time Inc magazine unit and could buy holdings in its core entertainment category, Gordon Crawford, managing director of its largest shareholder, said during a presentation this week.

"Time Warner just spun off their cable division, they are going to sell their print division, they are going to spin off AOL and they're just going to be Warner Brothers, HBO and the Turner Networks," said Crawford, managing director of The Capital Group.
This spawned an enormous headline on the media section on Huffington Post (though in fairness to them, it was a rather slow weekend for news) as well as numerous posts on news and media aggregating websites.
It also lead to a lot of wanton and uninformed speculation about Time Inc.'s future. Perhaps the most ridiculous analysis came from Peter Kafka at AllThingsDigital. Writing in his "Media Memo" column he published a post entitled "Time Warner Dumping Its Magazines? Not So Fast," which offered this gem on why they aren't selling:
Time Warner won't comment, but I'm sure the company has heard Crawford make this prediction before. His Capital Research Global Investors owns more than eight percent of Time Warner shares, which means he gets plenty of access to Bewkes and his lieutenants.

But here's the thing: The body language from Time Warner executives in recent months makes me think they intend to keep at least part of their magazine business in the family. More than body language, actually: "Time Warner without People? I can't imagine it," one well-placed Time Warner official told me recently.
Kafka redeems himself by correctly pointing out that while Time Inc.'s annual revenue may be significantly less than last year, its still a very profitable unit that earns TW millions a year.

>>>NEXT: Video of Crawford's talk
Have a tip we should know? tips@mediaite.com