The Wire's David Simon: Koch Brothers Buying Newspapers 'Last Nail In The Coffin' For Print Journalism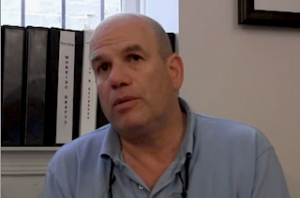 David Simon, who worked as a police reporter at The Baltimore Sun for more than a decade before creating HBO's The Wire, has officially joined the fight against the Koch brothers' proposed takeover of the Tribune Company's newspaper properties. In a video released today by the Working Families Party, Simon said he believes the move would be the "nail in the coffin" for the print journalism industry.
"When I heard that the Koch brothers, bless their hearts, were interested in purchasing newspapers–and the Baltimore Sun, my alma mater, in particular–I thought, 'Well, that's kind of the last nail in the coffin,'" Simon said. "There's a lot of damage that's been done to print journalism in the last 15 years, much of it self-inflicted." He noted that the "original sin" for American journalism was going to Wall Street for funding, which led companies to "put out a shittier newspaper and make more money."
When he heard that the "ideological" Koch brothers were looking to buy the "husk" of the Tribune Company papers, he thought, "That's the end game." He added, "It's not enough for you to lobby government, it's not enough for you to influence elections. There's an awful lot of capital that's already introduced into our electoral process. Newspapers, the fourth estate, are supposed to be outside of that."
"Ultimately, the only chance that democracy has, if you ask me, is that somebody stands on the outside of the excess and the fraud and basically calls foul," Simon said. "That doesn't happen if the newspapers represent a particular ideology. In the case of the Koch brothers, it happens to be very rightist, libertarian."
"The idea that somebody is going to come in with a political argument and acquire your local newspaper as a means of asserting for that argument, which is clearly their intention" he concluded, "is anathema to what journalism is supposed to be."
Charles and David Koch, whose Americans for Prosperity group helped fund one of the largest campaigns against President Obama during the 2012 election campaign, have expressed continued interest in purchasing the Tribune Company, which also owns the Chicago Tribune and Los Angeles Times.
Watch video below, via Working Families:
(h/t POLITICO)
—
>> Follow Matt Wilstein (@TheMattWilstein) on Twitter
Have a tip we should know? tips@mediaite.com