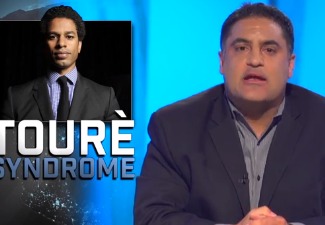 Last month MSNBC host Krystal Ball made an impassioned case for why liberals shouldn't get behind Hillary Clinton in 2016 and go with a strong progressive choice like Elizabeth Warren. On Monday her co-host Touré had a decidedly different take, making the case for Clinton as a moderate, "electable," less risky candidate. The Young Turks' Cenk Uygur pushed back on Tuesday, calling Touré's analysis "nonsense" and "horsecrap."
Uygur knew at some point, someone at MSNBC would stick up for Clinton, and mocked Touré for citing examples of progressive defeats way back in the 80s. And contrary to Touré's argument that it's difficult for a big liberal in their first term as a U.S. senator to win a national election because of their perceived inexperience, Uygur cited… well, look, it's pretty obvious who, isn't it?
RELATED: The Young Turks' Cenk Uygur Blasts MSNBC's 'Pathetic' Apologies for Cheerios Tweet
Uygur asked, "If [Clinton] was so electable, how come she got her ass handed to her in 2008?" He said recommendations made by Touré and others always lead to disaster for the left.
"This is the same kind of horsecrap I've been hearing for the entire time we've been doing this show. 'No no no, we should run weak-ass Democrats because it's the pragmatic thing to do.' And what do they do? They get rolled over by Republicans 'cause they're Republican lite."
Uygur concluded that anyone who thinks Clinton can be trusted is not a "real progressive" and has "no interest in actual change, and you just want everything to stay exactly as it is."
Watch the video below, via The Young Turks:
And you can watch Touré's original commentary below, via MSNBC:
[h/t Raw Story]
[photo via screengrab]
— —
Follow Josh Feldman on Twitter: @feldmaniac
Have a tip we should know? tips@mediaite.com
Josh Feldman - Senior Editor