#ThingsHillaryWillNeverHave Prompts Major Slams on Clinton From the Right and the Left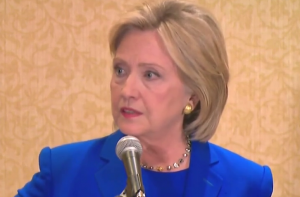 There's a new political hashtag going around this Saturday, and it's giving Hillary Clinton's critics every incentive to blast her online and say she'll never have the presidency…among other things.
#ThingsHillaryWillNeverHave has been trending on Twitter for approximately 20 hours, and while it's precise origins aren't clear, the Twitterverse is seeing an influx of negative pictures and memes about the Democratic Party's nominee.
A lot of users contributing to the hashtag are Bernie Sanders supporters who are still angry that their man capitulated to the former Secretary of State. Sanders' Internet-savvy voters tried this once before earlier this week, and it seems some are in the mood to try again.
#ThingsHillaryWillNeverHave: the ability to inspire millions of the country's most talented and intelligent people. pic.twitter.com/bjUS01a7IQ

— Eric Morisset (@EricMorisset) July 16, 2016
#ThingsHillaryWillNeverHave my damned vote ❎ #BernieOrBust

— ProgressiveWarrior (@TeacherWarrior) July 16, 2016
#ThingsHillaryWillNeverHave Love from the millennials pic.twitter.com/AAjJ7eVgxk

— kateloving (@kateloving) July 16, 2016
A $7 haircut.#ThingsHillaryWillNeverHave pic.twitter.com/AXwdbtwRzJ

— Farmers for Bernie (@Farmers4Bernie) July 16, 2016
Those Things that Money Cannot Buy#ThingsHillaryWillNeverHave pic.twitter.com/2LyrXTRlA0

— leoluminary (@leoluminary) July 16, 2016
Honesty
Integrity
Foresight
Compassion
Good Judgment
Our Trust and Vote
The Presidency pic.twitter.com/SUFM7asBwO

— Feetothefire (@feetothefire) July 16, 2016
Of course, you know that Donald Trump's supporters and conservatives in general would only be too happy to get in on this as well.
A laugh where she doesn't look like a psychopath#ThingsHillaryWillNeverHave pic.twitter.com/CBYB2PxgqJ

— SweepTheLeg (@waitingroom8008) July 16, 2016
#ThingsHillaryWillNeverHave support of the American people / a Movement full of love, respect & enthusiasm 4the USA pic.twitter.com/RbcnCEEyb4

— Kristin Billitere (@SpecialKMB1969) July 16, 2016
#ThingsHillaryWillNeverHave an honest sentence

— Joe Biggs (@Rambobiggs) July 16, 2016
#ThingsHillaryWillNeverHave
The coal miner's vote pic.twitter.com/9lIFkUWXpS

— The Beloved Debs (@McDebida) July 16, 2016
#ThingsHillaryWillNeverHave
Transcripts of the "speeches" she gave on Wall Street, but she does have the $153mil. pic.twitter.com/nGCs4mSJ5d

— Elizabeth ® (@MissLizzyNJ) July 16, 2016
#ThingsHillaryWillNeverHave Respect from any decent, upstanding person. pic.twitter.com/q3lyxsegSL

— Philip Schuyler (@FiveRights) July 16, 2016
#ThingsHillaryWillNeverHave
Successful foreign policy record. pic.twitter.com/20fWQuwY1A

— American Gunslinger (@USA_Gunslinger) July 16, 2016
[Image via screengrab]
— —
>> Follow Ken Meyer (@KenMeyer91) on Twitter
Have a tip we should know? tips@mediaite.com