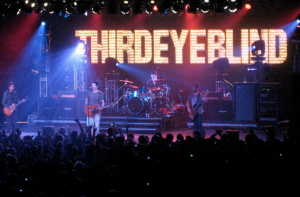 Third Eye Blind was lined up to play at a fundraiser for Musicians on Call last night at the Rock and Roll Hall of Fame in Cleveland. You can already see where this is going. You know what's going on in Cleveland right now and it isn't just extended NBA championship celebrations.
Musicians on Call made it known that Republican National Convention attendees were going to be at the show, which Third Eye Blind's singer, Stephan Jenkins, was none too happy about. He devised a plan to entertain himself while not entertaining them in the slightest.
As Rolling Stone reports, Jenkins did what any performer does and interacted with his audience. Instead of "Are you guys having a good time tonight?" in between songs, he yelled, "Raise your hand if you believe in science!"
The songs he played when he wasn't verbally antagonizing the Republicans by listing his beefs with their ideology weren't the songs a standard TEB concertgoer would hear, either. He straight-up refused to play the hits, instead belting out the sorts of songs that fill up an album and are known by diehards, but are totally unfamiliar to the radio-listening public.
From Rolling Stone:
The one Nineties hit Third Eye Blind did play was "Jumper," a song inspired by the suicide of Jenkins' gay friend. The singer prefaced the performance by telling the crowd, "To love this song is to take into your heart the message and to actually have the feeling to arrive and move forward and not live your life in fear [not] imposing that fear on other people."
They did a little Q&A on Twitter afterwards (when they weren't retweeting people praising them for their performance).
@hunterw Great question. We were not, as musicians on call were well aware of who we are and our take on things (like science and rights!)

— Third Eye Blind (@ThirdEyeBlind) July 20, 2016
If you are outraged by this display of partisanship at a charity function, let it be known that when an audience member loudly berated the band, Jenkins said, "You can boo all you want, but I'm the motherfucking artist up here."
TEB was asked to play the RNC in 2012 and declined. At the time, Jenkins said this:
The Republican National Convention is not a private event … It's a public sales pitch, and everyone is supposed to deliver the script. This whole hustle is peppered with music bits meant to wed policies like forced births of rapists' babies and minority voter suppression to song. Even the private party my band was asked to play at the RNC is not some innocuous event. Though I am happy to play for Republican fans, like my lifelong Republican mom, playing the RNC convention is a tacit endorsement of the Republican presidential candidate and his party platform, and this is not my mom's Republican Party anymore.
They didn't want to play for the RNC four years ago and if they were going to be forced into it in a round-about way this year, they clearly weren't going to take it lying down.
[image via Benjamin D. Esham ]
Have a tip we should know? tips@mediaite.com