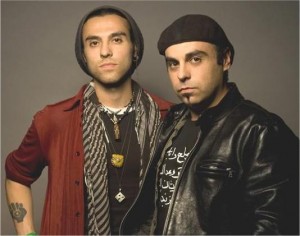 Today's viral video of note comes to you from a pair of exiled, Iranian-born brothers living in Canada who have remade Pink Floyd's "Another Brick in the Wall (Part II)" into a protest song for young Iranians. The brothers, Sepp and Sohl, make up the group "Blurred Vision," and they obtained special permission from Pink Floyd front man Roger Waters to make the remix. The music video, shot by Iranian director Babak Payami, combines clips of the band with footage of the violence during last summer's protests in Iran. The lyrics, meanwhile, have been altered slightly: The Blurred Vision chorus, rather than targeting teachers, is now "Hey Ayatollah, leave those kids alone!"
This isn't the first time "Another Brick" has become an anthem for international protests. The song was banned in South Africa during Apartheid after non-white protesters used the song during boycotts of the school system. Even Iran has a previous history with the song. Sepp explains:
"Another Brick" was released in 1979, the same year as the Islamic Revolution, and it really spoke to people who realized all the things the ayatollahs had promised them were lies. After the Islamic Republic banned rock 'n' roll, Iranian kids used shortwave radios to transmit 'Another Brick' to one another. It just exploded, and became their anthem.
That historical significance, of course, is why the brothers chose this particular song to remake. Their version, which has become a hit both online and in Iran's underground music scene, is available on iTunes.
Have a tip we should know? tips@mediaite.com