This Exists: Amazon Patents System To Exchange Bad Gifts Before You Even Get Them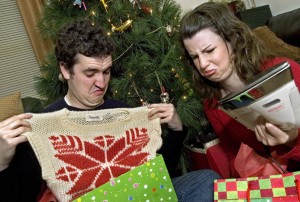 So, how many hours did you spend returning bad sweaters and weird gadgets the past few days? A new technology Amazon just patented could have saved you all that time (and your gift-giver a whole lot of money). The patent is for a system in which users can specify certain details so that any gift being sent to you meeting those requirements will be stopped. Then you would receive a notification so that you can change the gift before it's even sent. Hooray! Now we can all feel even more awkward when Grandma asks how we like that shirt she sent.
The way the service works is that you will mark certain qualifications like the sender (the aforementioned Grandma), the price and type, and when an item like that is purchased for you, you'll get a notification. Then you can swap the original gift out for something from your Wish List or for a gift certificate. And, if you want to be sneaky about it, you can even have Amazon email the sender a thank you note for the thing they actually bought!
Some might say this is fairly rude. Not only are you shutting down gifts from people, you're seeing what they sent and how much it cost before it even gets to your door. The Washington Post even interviewed the great-great-granddaughter of Emily Post, etiquette expert, who told them the idea "totally misses the spirit of gift giving."
So why is Amazon trying to hurt the feelings of all of our grandmothers and aunts? Simple answer: money. It turns out that the process of returning gifts and putting them back in storage costs online retailers millions, perhaps even billions of dollars.
From the Washington Post:
"'Any time you have to touch a product, there's a cost associated with that, and those costs add up,' said Kevin Brown, marketing director for Newgistics, a Texas company that specializes in simplifying returns for e-retailers.

But it's not just shipping costs that e-retailers struggle with on returns. There are labor costs, too. Brown said each return typically results in about two phone calls to customer service lines. Also returns require processing at distribution centers, which means extra staffing during the holiday season. And many opened products can't be returned to manufacturers and must be sold at a loss as refurbished items.

'This is absolutely a huge business problem,' said Howe, the Yankee analyst."
We'll see if Amazon actually implements the service. They are aware that there could be the possibility of a huge backlash from consumers, grandmothers, and terrible sweater producers everywhere.
(h/t The Consumerist who have a picture of the patent. Photo via GiftRap)
Have a tip we should know? tips@mediaite.com