This Exists: CNN Asks If Miss USA Is A Hezbollah Spy (Or Muslim Trailblazer)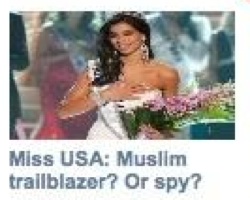 When Rima Fakih was crowned Miss USA, many cited her title as a seminal moment in Arab-American relations, even if she wasn't technically the first Arab-American to win the beauty pageant (that would be Julie Hayek). But soon after, bizarre rumors began to swirl in the nether reaches of the Internet that Fakih may in fact be a spy – or so claims a report on CNN.com that takes a meta look at the rumors, while at the same time, passing them along.
To be fair, the following piece doesn't claim that Fakih might actually be a spy, but focuses on the image of Arab-Americans and the sprout of rumors. But the headline on the CNN homepage (included below) clearly asks "Miss USA: Muslim Trailblazer or Spy?"
According to CNN.com's Belief Blog:
She's always wanted to be a beauty queen and her dream came true with one of the biggest titles – Miss USA 2010 – Rima Fakih.

As soon as the announcement was made, the labels appeared. She was described as Arab-American, Lebanese-American, Muslim-American. She became the center of controversy overnight after pole dancing photos surfaced and spread across the globe just as fast as a rumor started by a U.S. neo-conservative blog that she's a spy for the Shiite Lebanese group Hezbollah, designated by the U.S. and E.U. countries as a terrorist group.
Belief Blog is a new section of CNN that just launched, that, according to its press release, aims to "explore the faith angles of the day's biggest stories – from breaking news to politics to entertainment to foreign affairs." The blog is co- edited by noted religion blogger, author and CNN Wire news editor Dan Gilgoff and CNN producer Eric Marrapodi, who is pursuing a master's degree in religious studies from Georgetown University.
While some Google searching did uncover at least one blog that was hyper-critical of Fakih's crown, its not necessarily fair to say that many accepted the accusation that Rima Fakih is in fact a spy. A screen grab of the CNN webpage follows the video report.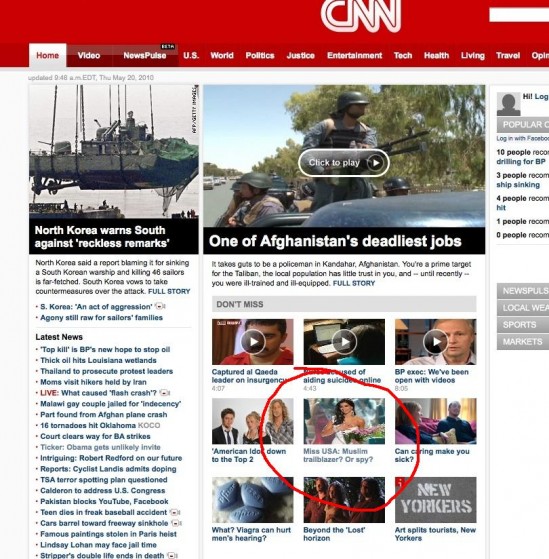 fat
Have a tip we should know? tips@mediaite.com