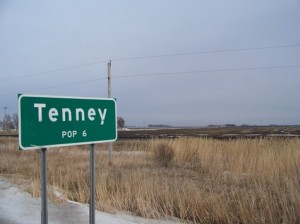 The small Minnesota town of Tenney, made up of three people (the butcher mayor, the baker city clerk, and the candlestick maker city clerk's sister), voted to dissolve their town and merge it with nearby Campbell Township.
The Minneapolis Star Tribune reports that the vote was 2-1 in favor of dissolving the town, with City Clerk Oscar Guenther's sister voting against it. Guenther said he tried attracting more people to the city because "people love the notion of a little town. It's a quaint idea." However, he soon realized the whole concept was too idealistic and "impractical."
"Maintaining the city's buildings and property takes money and time. It's like having someone near death and you try to prolong life to no avail or just to say farewell."
Not that he hasn't tried to sell the town to any doubting Thomases.
"People would say you are in the middle of nowhere… I would say we're in the middle of everywhere."
Guenther said his sister Sue voted against him because "she knows how hard I've worked to keep the town alive." Mayor Kristen Schwab (who has been described as "a former aspiring musician") said that the merger would be upsetting because "we lose control of the city," but on the other hand, now "it will be someone else's problem." But really, how much of a burden is a town with only $10,000 in city funds and virtually no constituents to object to improper use of said funds?
A hearing was called several months ago by Mayor Schwab to discuss a possible dissolution, thanks to a petition signed… by Mayor Schwab. According to Minnesota Public Radio, because the town consists of three people and Schwab was the only one to sign the petition, it "met the legal requirement to get a third of all voters to sign."
According to Wikipedia, Tenney's population hit 185 in 1910, and has been steadily declining ever since. By 1990 it dropped down to just four people. Tenney has only two buildings: a City Hall that used to be a church and a community center that also used to be a church. And if you're looking for any interesting tourist spots in Tenney, on the edge of town is a "grain elevator," which I assume has something to do with elevating grains. Tenney used to have a fire hall, but it burned to the ground last year. (Also, it has over 4 times as many Facebook fans as citizens.)
Tenney has been competing for the title of smallest town in Minnesota with the equally small Funkley for the past few decades. Both towns had a population of five when the 2010 census was taken, but now that Tenney is officially dissolving, Funkley will now be the sole city with that honor.
Funkley Mayor Emil Erickson has indicated he will not be taking similar steps to dissolve his town, saying:
"I believe in small government and Funkley is about as small as you can get."
In addition to being the mayor, Erickson doubles as the owner of the Funkley Bar and Lounge. The mayor serving out alcohol to his constituents? Now that's small town living for you!
Maybe if Tenney had a bar, they wouldn't have had to dissolve. Just saying.
Have a tip we should know? tips@mediaite.com
Josh Feldman - Senior Editor