This Guy's Prescient Tweet From 2014 About Last Night's World Series Is Freaking Everybody Out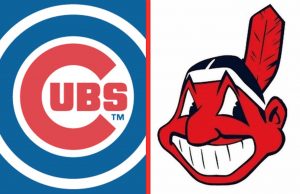 For those of you who are having a hard time at work this morning, chances are you were up late Wednesday night watching the most stunning and improbable Game 7 in World Series history.
Is was, simply put, one of the greatest sports games of all time. The turn of events would make for a great Stefon bit on SNL because this game had everything: lead changes, questionable managing decisions (how are you gonna pull both Hendricks AND Lester like that?!), and unlikely heroes between the Chicago Cubs and Cleveland Indians, baseball's two most lovable losing franchises — a combined championship drought of 176 years — after the Cubs battled back from being down 3 games to 1.
And then, just when it seemed as if the baseball gods could not inject any more drama into the season, the game headed for extra innings with the game tied. And that's when Twitter collectively began to freak out as one man's prescient Tweet from November 4, 2014 began to make the rounds with lightning fast speed.
2016 World Series.

Cubs vs Indians

And then the world will end with the score tied in game seven in extra innings #apocalypse

— GIO (@RaysFanGio) November 4, 2014
Let that soak in for one moment.
The user — who Tweets from the moniker @RaysFanGio — tweeted his prediction on the day that manager Joe Maddon was signed by the Cubs after the end of his tenure atop the Tampa Bay Rays franchise in 2014. He not only eerily predicted that both the Cubs and the Indians would make the World Series specifically in 2016, but also that the score would be tied in game seven in extra innings. Remarkably, the Indians had to rally a 2-run effort late in the game just to tie things up, making his prediction all the more unlikely.
That's exactly what happened. And suddenly — the rain began to pour in Cleveland, and the game was impossibly forced to take a rain delay at a 6-6 tie. Almost certainly, people began to freak out that Riostradamus over here predicted the apocalypse in that moment, but alas, the world continued on spinning (as far as we know).
The Cubs would go on to win the World Series — a mind-blowing fact in and of itself that many people would consider kin to an apocalypse — off the bat of Ben Zobrist in the 10th and heads-up base running all night long. The party is on in Wrigleyville, and @RaysFanGio has cemented himself in the annals of prediction immortality.
Hey Gio — care to weigh in on the presidency?
—
J.D. Durkin (@jiveDurkey) is an editorial producer and columnist at Mediaite.
Have a tip we should know? tips@mediaite.com