'This Is Going to End Badly': Erick Erickson Posts Sad Twitter Rant on Trump's Inevitable Defeat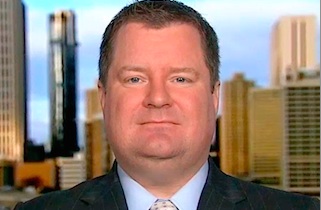 Former Redstate Editor-in-Chief Erick Erickson went on a lengthy Twitter rant on Wednesday morning, where he seemed to get extremely morose as he gave his thoughts about what will happen after Donald Trump's certain fall.
Erickson has been a prominent #NeverTrumper for months, and he's made it quite clear in the past that Trump becoming the GOP nominee won't change that. Trump's campaign has been going through an especially–troublesome time over the past few days, and Erickson took to Twitter to muse on what kind of aftermath conservative America will face when the election is over.
The highlights of the rant touched a multitude of subjects: from conservatives promising to back Hillary Clinton, to the frustrations of GOP leaders, to the splintering of the Republican Party:
2. I totally get it and am sympathetic to the idea that you have concluded Trump is better than Hillary so you will vote for him. I get it.

— Erick Erickson (@EWErickson) August 3, 2016
3. I disagree with you. I think they are equally terrible. But I do not hold it against anyone for coming to the opposite conclusion.

— Erick Erickson (@EWErickson) August 3, 2016
4. For the life of me, however, I do not understand any Republican voting for Hillary Clinton.

— Erick Erickson (@EWErickson) August 3, 2016
5. If Trump does not deserve your vote, Hillary Clinton sure as hell does not deserve your vote.

— Erick Erickson (@EWErickson) August 3, 2016
7. But for you Republicans who are supporting Trump, please understand he is not going to win. Console yourself with close polling.

— Erick Erickson (@EWErickson) August 3, 2016
9. And yes, we know the media is biased against Trump as the media is against every Republican, but not all of them give so much material.

— Erick Erickson (@EWErickson) August 3, 2016
10. At some point, for integrity and character's sake, I hope you'll at least go on record that Trump is an immoral person.

— Erick Erickson (@EWErickson) August 3, 2016
11. Character must still count and if you haven't noticed, Trump is breaking apart the GOP and turning people to their worst selves.

— Erick Erickson (@EWErickson) August 3, 2016
12. This is going to end badly. I stand by my believe that those of us against Trump must have malice toward none when everything collapses

— Erick Erickson (@EWErickson) August 3, 2016
14. And if I'm really honest, at this point I think Trump should not be replaced even if it were possible.

— Erick Erickson (@EWErickson) August 3, 2016
15. The GOP elite, @Reince, the RNC, etc. need to own this defeat in all its glory. They could have stopped him, but they served him.

— Erick Erickson (@EWErickson) August 3, 2016
18. The truth is, I plan on never again supporting any cause or candidate who hires anyone who went to work for Trump before May 2016.

— Erick Erickson (@EWErickson) August 3, 2016
19. Those people aided and abetted Hillary Clinton's rise and fostered a collapse of civic discourse in America.

— Erick Erickson (@EWErickson) August 3, 2016
20. And now we will watch this unfold like a 97 day moving train wreck. God help us all and I really do mean that.

— Erick Erickson (@EWErickson) August 3, 2016
[Image via screengrab]
— —
>> Follow Ken Meyer (@KenMeyer91) on Twitter
Have a tip we should know? tips@mediaite.com