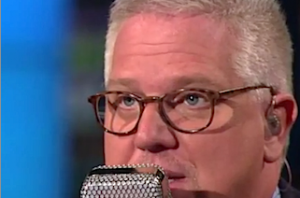 Glenn Beck presented a theory on his radio show Monday for which he fully acknowledged he would be "mocked." With a tight, relatively simplistic outline of international relations, Beck predicted the "end of the proxy war" in the Middle East and the "beginning of World War III."
"Probably within the next year it will be proven to be right," Beck said of his prediction, noting that in a case like this, "you really don't want to be right." In Beck's estimation, in the gym class dodge ball game that is global politics, Russia "has picked Iran" and "we have picked the Muslim Brotherhood and Libya and Egypt." He summed up the situation like this:
"It's the United States versus Russia. This is what all of us who are my age grew up worried about. This is it. It's been a cold war. It's been a proxy war. It's been one where nobody really understands it yet. But I think you're about to. I think this whole thing in the Middle East is the beginning of the end of the proxy war and the covert war. You're now going to see an openly hot war, I fear, and the beginning of World War III."
While it may be true that Russia has aligned itself with Iran, it's difficult to see how the United States has on its team both the Muslim Brotherhood and the official government of Egypt, who have been increasingly at odds in recent weeks.
Watch video below, via TheBlaze:

(h/t RWW)
—
>> Follow Matt Wilstein (@TheMattWilstein) on Twitter
Have a tip we should know? tips@mediaite.com