'This Is My Moment!': Kid Who Rushed the Monday Night Football Field Recounts His Big Play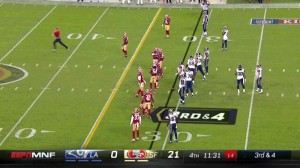 The 16-year-old California native who rushed the field on Monday night during the fourth quarter of the 49ers-Rams game says he did it for fun.
More remarkably, he admitted to Deadspin, "I was sober."
The kid — named William — said that he was dared to do it by his friends. "Then they dared me to write my number on my chest," he recounted later. "I did it and I thought it was pretty fun." He said that his sister was complicit in the plan and was the one who wrote his phone number on his chest hours before the stunt.
Though he was at the game with his father, William claims that he told the senior, "…I was gonna go to the bathroom. I said 'I'll be right back,' then I just jumped and ran." The 16-year-old proves that he is a North California native as well by his repeated use of the word "hella" in the below description about how he actually managed to get down onto the field:
"My actual seats were in section 221, but I was scouting the place prior and I saw that there was a security guy [in the 100s] who wasn't checking tickets for people—he was just letting them go—so I just walked in. He didn't ask for my ticket, and I went to the front row where there were two empty seats. I sat down for a minute and saw the security guard turn to talk to someone and thought, This is my moment. So I ran, I hopped the gate, and as soon as I put my foot over the gate I heard hella people screaming. When I fell it was only like a five-foot fall and I was hella scared, but it wasn't that bad."
The game was a momentous one for a number of reasons; namely, it was the first Golden State showdown between the San Francisco 49ers and the Rams, who just moved football operations to Los Angeles after leaving the city of St. Louis. As for interactions with any of the players during his jaunt on the field, William continued, "I'm running around, being hella close to the players, but I was afraid they were gonna hit me. I was gonna give a high five to one, but then I was like, he can hit me. I just saw them standing, and yeah, I blew a kiss to one of them."
If your 16-year-old kid interrupted Monday Night Football by running out onto the field, would you discipline him? Not if you're William's parents. "My parents thought it was too funny," he said. "I thought [my dad] was gonna be mad, but he said he was proud of me."
As for Kevin Harlan's epic play-by-play call of the moment in question, William admits, "Yeah, I've heard it. I thought it was pretty funny, but he was saying, Oh he's being chased, but I wasn't being chased and he was just trying to spice things up a bit."
[h/t Deadspin]
Have a tip we should know? tips@mediaite.com