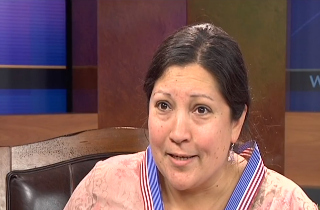 Unless you're a #RINO, you likely recognize that Senate Minority Leader Mitch McConnell (R-KY) has become increasingly unpopular with more conservative elements of the Republican Party. He currently faces a primary from long-shot tea partier Matt Bevin. Oh, and a woman named Shawna Sterling.
Not much is known about Sterling, but she has filed with the Federal Election Commission and participated in a debate this week with two other Republican candidates (McConnell skipped out).
And her campaign website is truly bizarre, sheer perfection.
The 41-year-old Republican's website starts off as a rebuking of McConnell's transgressions, with some references to her education background peppered throughout (Sterling is currently in the process of obtaining a PhD at University of Kentucky). But as you scroll down, you'll notice things take a turn for the eccentric.
Under the blaring headline "Sterling Connects Codes From The Dark Knight Rises (TDKR) to Obama Telling the World that His Number One Fear for the National Security of the United States of America is a Nuclear Bomb Hitting Manhattan, New York City, New York (TDKR = Gotham)," Sterling include an Alex Jones "false flag" videos and claims she has decoded messages from the Christopher Nolan superhero film to indicate some kind of impending nuclear war(?).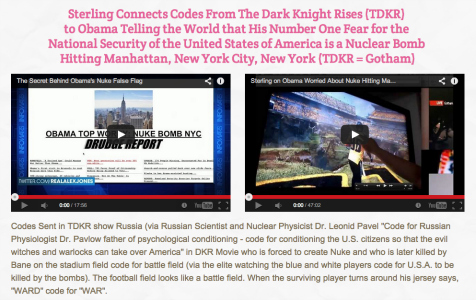 It's unclear what, exactly, her message is; but through a collage of Wikipedia screengrabs and videos from The Dark Knight Rises and White House Down, Sterling seems to believe major tragedies like 9/11 and the Sandy Hook shooting were both planned by "elites." The candidate boasts: "Sterling Decodes the Steganographic Messages in the White House Down Trailer."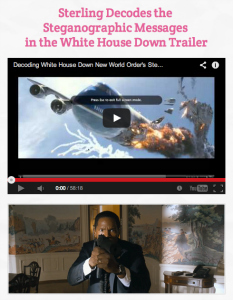 Further on down the site's vertical, there's a confusing essay about how Karate Kid foretold the terrorist attacks of 9/11: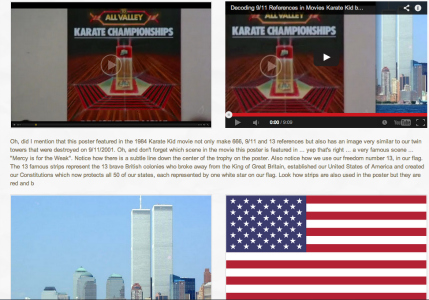 The text above:
Oh, did I mention that this poster featured in the 1984 Karate Kid movie not only make 666, 9/11 and 13 references but also has an image very similar to our twin towers that were destroyed on 9/11/2001. Oh, and don't forget which scene in the movie this poster is featured in … yep that's right … a very famous scene … "Mercy is for the Weak". Notice how there is a subtle line down the center of the trophy on the poster. Also notice how we use our freedom number 13, in our flag. The 13 famous strips represent the 13 brave British colonies who broke away from the King of Great Britain, established our United States of America and created our Constitutions which now protects all 50 of our states, each represented by one white star on our flag. Look how strips are also used in the poster but they are red and b
Her "Issues & Questionnaires" section is fascinating as well. "I agree with Rand Paul on many of the Issues. I have added a few more of my own below," she writes at the top of the page. Her take on most issues seems to boil down to strict constitutionalism, with a flair for fighting off the New World Order.
While explaining her belief that LGBT rights must be protected, Sterling adds that "if it wasn't for the Constitution providing the protection of our diversity, then we would all be forced to believe like one King, or one Queen, or one group of wealthy elites, or those who seek to take over our country and control us under a New World Order."
That theme comes up again on the "Jobs in America" page, in which she warns that "the economy in the United States has been strategically targeted by enemies of the United States who plan to run each city and state into the ground so that they can buy it up and take it over."
She also has an entire page dedicated to "saving the baby cows," a.k.a Bundy's cattle.
Good luck in the May 20 primary, Sen. McConnell.
[h/t Lachlan Markay]
Have a tip we should know? tips@mediaite.com