This Should Finish Him: Donald Trump Was a Pig for Hours on The Howard Stern Show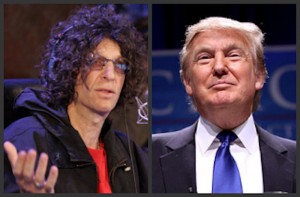 He's withstood making attacks on sacred conservative cows like George W. Bush, Megyn Kelly, and war heroism, but Republican presidential frontrunner Donald Trump is about to go down thanks to the eagle ears at Buzzfeed. The site's political team spent "hours" listening to old episodes of The Howard Stern Show in order to compile a damning dossier on Trump that includes wanting to sleep with Princess Diana, rating Eva Longoria a seven, and not being able to get a boner for Madonna why are we reading this? Ow! My mind's eye!
I guess if you're going to spend hours listening to Donald Trump talking to Howard Stern, as Buzzfeed's Andrew Kaczynski and Nathan McDermott bravely did, you're going to want to come away with something, but the collection they've amassed is a bit of a disappointment, barely rising to the level of things Trump still says today at his rallies, right on TV.
Here's a taste, from Buzzfeed:
On several different occasions, Trump ranked or rated women on their looks.
In one instance, Trump ranked his top 10 most beautiful women, and while his then-girlfriend Melania Knauss took the top spot, Trump told Stern he definitely would have sex with Mariah Carey, Cindy Crawford, and Princess Diana, who also made the list. In another appearance, Trump assigned each of the actors on ABC's Desperate Housewives a score of 1 to 10 based on their attractiveness. He said of one of the actors, Nicollette Sheridan: "A person who is very flat-chested is very hard to be a 10." When he got to Marcia Cross, he asked Stern, "Would you go out with Marcia Cross or would you turn gay, Howard?"

In the interviews, Stern and his co-hosts often introduced the most vulgar elements into the conversation, but Trump was almost always willing to go along. Talking about Pamela Anderson's hepatitis C diagnosis in 2000, Stern asked Trump, "Would you do her, still?"

Trump replies, "No, I'm sorry."

Robin Quivers, Stern's sidekick, then asked Trump whether he would choose to sleep with Anderson or Whoopi Goldberg.

"You know, right now, I have to go with Whoopi," replied Trump. "Look, it's a terrible thing. It's a sad thing. You know, it's a terrible thing."
Now, I'm going to go way out on a limb here and say that Donald Trump has already lost the offended-by-sexual-humor-about-Whoopi Goldberg vote, and anyone else who might be offended by something Trump said on Stern's show. In fact, given that milieu, I'm actually shocked at how relatively restrained Trump was. Unless there's another shoe to drop, he didn't say anything at all about "the blacks," except that he "awkwardly" revealed that he slept with a black girl once.
You can hear audio clips and (annoyingly) Vines of Trump's Howard Stern appearances at Buzzfeed.
[image via Shutterstock]
This is an opinion piece. The views expressed in this article are those of just the author.