'This Sh*t's Not Funny Anymore': GOP Strategist Calls Trump 'Extinction-Level' Threat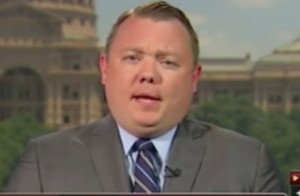 Conservative communications strategist Matt Mackowiak went on a major tweetstorm last night, blasting Donald Trump for his repeated controversies and saying the mogul will cause incalculable damage to the American conservative movement.
Recent polls suggest that Trump is falling behind Hillary Clinton, and Mackowiak said that the reason for this was that Trump keeps blowing his chances to win independents by constantly saying incendiary things. Mackowiak said Trump could still win if he accepts that certain states are lost to him, and shows enough discipline to not further risk his hold on undecided voters in battleground states.
Even so, Mackowiak didn't seem very optimistic on that possibility, seeing as he noted Trump was "threatening elected GOPers at all levels," that he is an "extinction-level event" and that Trump doesn't seem deeply concerned about how he's facing a revolt from significant GOP figures:
Epic Trump tweet storm beginning now.

— Matt Mackowiak (@MattMackowiak) August 11, 2016
1/ Ok, this shit's not funny anymore. Trump is threatening elected GOPers at all levels in places that haven't been competitive in decades.

— Matt Mackowiak (@MattMackowiak) August 11, 2016
2/ It's time to get real. Stop campaigning in states that are gone: CT, NY, ME, CA, CO and VA. Just stop. You re wasting time.

— Matt Mackowiak (@MattMackowiak) August 11, 2016
3/ You have a narrow path. Hold the Romney states (in order of danger: NC, AZ, GA, UT). And then pick up OH, PA and FL. That's it.

— Matt Mackowiak (@MattMackowiak) August 11, 2016
4/ I'd be ok with Trump and Pence ignoring every state but OH, PA, FL and NC from here on out. Let paid media and RNC field win UT, GA & AZ.

— Matt Mackowiak (@MattMackowiak) August 11, 2016
5/ More fundamentally, the Trump campaign needs to discover the value of scarcity. Make Trump scarce. Fewer interviews. Shorter rallies.

— Matt Mackowiak (@MattMackowiak) August 11, 2016
6/ Do they have a daily message? It appears when there's a speech. Otherwise it does not appear they have a daily message. That's insane.

— Matt Mackowiak (@MattMackowiak) August 11, 2016
7/ Can Trump show discipline for the rest of August? No more loose talk. Exciting a crowd isn't impressive. Winning a battleground state is.

— Matt Mackowiak (@MattMackowiak) August 11, 2016
8/ Trump is threatening the entire GOP and it could take a decade to erase the damage. We are looking at an extinction-level event.

— Matt Mackowiak (@MattMackowiak) August 11, 2016
9/ Where is the bottom? His floor appears to be 38%. His ceiling appears to be 42%. Hillary's range appears to be 44%-49%

— Matt Mackowiak (@MattMackowiak) August 11, 2016
10/ Trump appeared to have turned a corner last week on Friday, quiet on weekend, good speech Mon. But blew it w/ 2A & ISIS comments.

— Matt Mackowiak (@MattMackowiak) August 11, 2016
11/ If it were up to me, he would demonstrate discipline and focus the rest of Aug while beginning aggressive debate prep (20 hrs/week).

— Matt Mackowiak (@MattMackowiak) August 11, 2016
12/ Make Hillary play defense for a few days. Tighten up your schedule. Do a few more policy speeches. Announce some new policy advisors.

— Matt Mackowiak (@MattMackowiak) August 11, 2016
13/ Sept the race becomes fluid again. People start paying attention. Expectations for Trump's debate will be low. He needs to overperform.

— Matt Mackowiak (@MattMackowiak) August 11, 2016
14/ You can't overstate panic inside GOP currently. Lots of conversations taking place. More defections coming. Will they be before debate?

— Matt Mackowiak (@MattMackowiak) August 11, 2016
15/ Perhaps most worrying is that today on @hughhewitt, Trump said he isn't worried about losing. Fear of losing makes candidates better.

— Matt Mackowiak (@MattMackowiak) August 11, 2016
16/ Fear of losing makes candidates improve knowledge, strategy, discipline & performance. Can Trump possibly not be worried about losing?

— Matt Mackowiak (@MattMackowiak) August 11, 2016
17/ Trump has said all along that this was a waste of time if he loses. So why isn't he changing course in an attempt to win?

— Matt Mackowiak (@MattMackowiak) August 11, 2016
18/ He used to love polls, citing them hourly. He can't now, as the race has turned sharply against him.

— Matt Mackowiak (@MattMackowiak) August 11, 2016
19/ Trump benefitted mightily from a high floor in the primaries, but he never was hurt by his low ceiling. Reverse is true now in general.

— Matt Mackowiak (@MattMackowiak) August 11, 2016
20/ What does Trump care about, if he doesn't care about losing, doesn't care about the GOP, won't listen, won't learn, and won't improve?

— Matt Mackowiak (@MattMackowiak) August 11, 2016
[h/t The Hill]
[Image via screengrab]
— —
>> Follow Ken Meyer (@KenMeyer91) on Twitter
Have a tip we should know? tips@mediaite.com