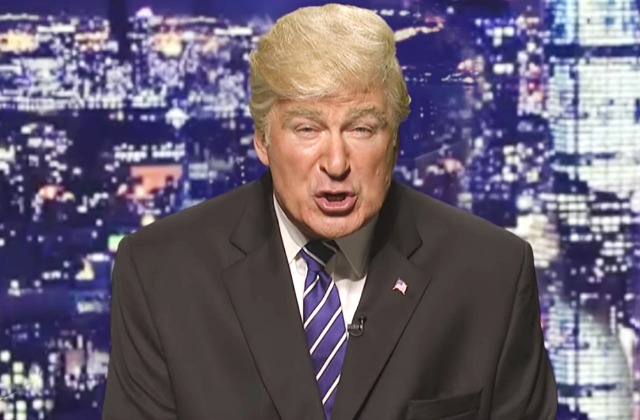 This Saturday's episode of Saturday Night Live featuring Alec Baldwin as the host may be one of the most momentous in the show's storied 42 season history. Why? Well, I worked at SNL for eight seasons on the production staff and during that time none of us could be completely certain if the celebrity or politician being mocked in an episode of the show would actually be tuning in. Sure, we could guess -or even hope – that the person would watch, but it was still pure speculation.
But with Donald Trump we know. It seems for Trump, SNL is his go to show to hate-watch. And this week's SNL may be the cherry on the poop sundae for Trump given he just got crushed by Nordstrom's and then the 9th Circuit Court of Appeals.
SNL truly has a way of getting under Trump's skin turning him from orange to red. You see Trump, like all aspiring dictators, hates being publicly mocked and laughed at. Trump fully gets that when you are laughing at him, it undermines his ability to be a Putin like figure who can use fear and veiled (and not so veiled) threats to get his way.
We first saw this in October when Trump was so freaked out about Baldwin's depiction of him that he took to Twitter to not only trash Baldwin, but also to astoundingly call for the cancelation of the iconic comedy show:
Watched Saturday Night Live hit job on me.Time to retire the boring and unfunny show. Alec Baldwin portrayal stinks. Media rigging election!

— Donald J. Trump (@realDonaldTrump) October 16, 2016
This Trump tweet was simply jaw dropping. SNL has been comically fileting politicians since it premiered in 1976 but no presidential candidate ever called for the show to be "retired." Even Sarah Palin – who was lampooned even worse than Trump – laughed it off and even appeared on the show making fun of herself.
But Trump was not done. In December, this time as President-elect, he again went after SNL for its sketch mocking how Trump is Twitter obsessed. Ironically enough Trump used Twitter to slam that sketch:
Just tried watching Saturday Night Live – unwatchable! Totally biased, not funny and the Baldwin impersonation just can't get any worse. Sad

— Donald J. Trump (@realDonaldTrump) December 4, 2016
And a few days later when Trump appeared on the Today show, Matt Lauer asked him why doesn't he just avoid watching SNL if it angered him so much? Trump responded by unleashing another diatribe against SNL stating, "Well, I hosted SNL when it was a good show, but it's not a good show anymore." The man who would be sworn in as our 45th President just six weeks later added, "There's nothing funny about it. The skits are terrible. I mean, I like Alec, but his imitation of me is really mean-spirited and not very good."
Trump complaining about anything being "mean spirited" is hilarious. You don't even need a punchline for this guy most of the time.
And once again in January – this time only days from becoming President – he went after SNL with this tweet:
.@NBCNews is bad but Saturday Night Live is the worst of NBC. Not funny, cast is terrible, always a complete hit job. Really bad television!

— Donald J. Trump (@realDonaldTrump) January 15, 2017
So there's little doubt Trump will be watching Saturday as Baldwin hosts SNL. Who knows how many sketches will target Trump? Will we see comedy about Ivanka Trump's line of clothes that Nordstrom dropped this week? Perhaps we will see Kellyanne Conway hawking Trump merchandise in a home shopping club type parody.
Plus there are rumors Rosie O'Donnell may turn up to play Steve Bannon. And maybe we will even see Melissa McCarthy reprise her hilarious role from last week as Sean Spicer, a depiction that reportedly rattled the White House.
There are just so many possibilities for SNL to effectively troll Trump. And what Trump is missing is that the more he whines and complains about SNL, the more they will do it. One, it's been great for ratings.
But also because comedians hate being told what we can and cannot joke about. And if you are person in power like Trump who has been vicious to everyone from Latinos to Muslims to women, we are coming for you. And the more we know you hate being ridiculed, the more we love to do it.
So here's hoping Saturday's episode of SNL is not only hilarious but it drives Trump to tweet. That will be all the proof we need that SNL hit its target.
— —
Dean Obeidallah is a former lawyer turned comedian and writer. He is the host of SiriusXM radio's "The Dean Obeidallah Show" and co-directed the comedy documentary, The Muslims Are Coming!
— —
This is an opinion piece. The views expressed in this article are those of just the author.