TIME Announces German Chancellor Angela Merkel Is the 2015 Person of the Year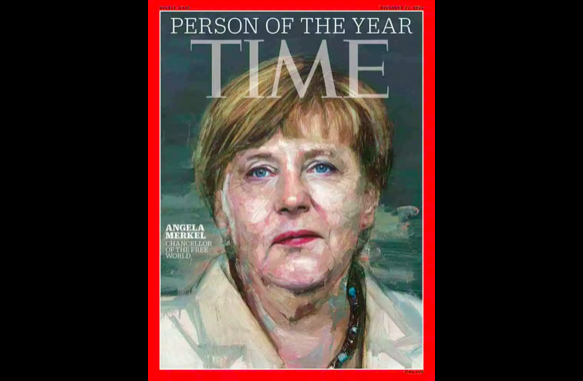 After a reader-vote that propelled Vermont Senator Bernie Sanders to the lead, and an announcement of eight finalists that left many scratching their heads, TIME has announced that German Chancellor Angela Merkel is the 2015 Person of the Year. The selection, which was first given to Charles Lindbergh in 1927, annually recognizes a global figure of influence.
The German Chancellor beat out a field of seven finalists that included GOP frontrunner Donald Trump, Russian President Vladimir Putin, Caitlyn Jenner, ISIS leader Abu Bakr Al-Baghdadi, Black Lives Matter activists, Uber CEO Travis Kalanick, and Iranian President Hassan Rouhani.
Merkel's open-arm stance on welcoming war-torn refugees has made her viewpoints unpopular with many of her peers and even within her own country. She has preached the phrase "We will cope" as a means of identifying the additional burden of opening the country's borders. Along with their announcement Wednesday morning, TIME concluded the following about Merkel's candidacy for the distinction:
At a moment when much of the world is once more engaged in a furious debate about the balance between safety and freedom, the Chancellor is asking a great deal of the German people, and by their example, the rest of us as well. To be welcoming. To be unafraid. To believe that great civilizations build bridges, not walls, and that wars are won both on and off the battlefield. By viewing the refugees as victims to be rescued rather than invaders to be repelled, the woman raised behind the Iron Curtain gambled on freedom. The pastor's daughter wielded mercy like a weapon. You can agree with her or not, but she is not taking the easy road. Leaders are tested only when people don't want to follow. For asking more of her country than most politicians would dare, for standing firm against tyranny as well as expedience and for providing steadfast moral leadership in a world where it is in short supply, Angela Merkel is TIME's Person of the Year.
[image from TIME]
—
>> Follow J.D. Durkin on Twitter (@MediaiteJD)
Have a tip we should know? tips@mediaite.com