Timesman Thomas Friedman Wishes More Reporters Could Be Like Anderson Cooper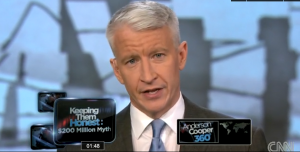 The conceit on Anderson Cooper's nightly CNN show AC360 of "Keeping Them Honest" can sometimes feel forced and formulaic. Other times, Cooper uses his time to do what journalists are supposed to do: take the time to tear into a story and dig out the facts.
In a gushing column in today's New York Times, columnist Thomas Friedman delivers big props to Cooper for a segment he did on November 4, which Friedman compares favorably to Mark Twain:

On Nov. 4, Anderson Cooper did the country a favor. He expertly deconstructed on his CNN show the bogus rumor that President Obama's trip to Asia would cost $200 million a day. This was an important "story." It underscored just how far ahead of his time Mark Twain was when he said a century before the Internet, "A lie can travel halfway around the world while the truth is putting on its shoes." But it also showed that there is an antidote to malicious journalism — and that's good journalism.
The heavily hyped claim that President Obama was burning $200 million dollars a day to tour Asia and avoid fixing the economy came complete with plenty of red meat specifics for talk radio and conservative pundits: a presidential retinue topping 2,000 people, 870 five-star hotel rooms for POTUS and staff, and 34 warships dispatched to keep things safe.
Cooper, Friedman says, painstakingly dissected those claims, and the people who repeated them without checking their facts–starting with the $200 million a day figure, which Cooper traced to a reporter at a newspaper in India:
"It was an anonymous quote," said Cooper. "Some reporter in India wrote this article with this figure in it. No proof was given; no follow-up reporting was done. Now you'd think if a member of Congress was going to use this figure as a fact, she would want to be pretty darn sure it was accurate, right? But there hasn't been any follow-up reporting on this Indian story. The Indian article was picked up by The Drudge Report and other sites online, and it quickly made its way into conservative talk radio."
Watch the KTH segment here, from CNN:
Have a tip we should know? tips@mediaite.com