Tired of Criminal Justice System's Inaction, Group of Witches Hexes Martin Shkreli Themselves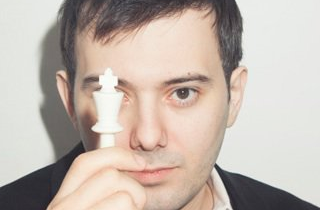 Martin Shkreli, the "pharma bro" who astronomically jacked up prices on a life-saving drug and appeared before a Congressional committee on charges of fraud, calls himself "a god." Some people, however, do not believe in god at all.
A group of witches in Brooklyn got tired of Shkreli evading any real punitive action from the courts. When it became clear that he wasn't going to get in any real trouble for the things he's done, a "witchcraft enthusiast" called Howl stepped in, says The Daily Dot. When asked by the Dot how frequent hexes are in the community, they responded like this:
When people think of casting hexes, it's like dark and scary magic, the black arts, and they don't want to get near that. When in reality all we're trying to do is get justice.
Howl went on to say that with family and friends who rely on the AIDS drug Shkreli made nearly impossible to get with his price hike, it was hard not to feel affronted by his actions and feel spurred to retaliation.
The hex itself happened on Ash Wednesday, which was February 10. Howl put out a call to local witches and hosted a bit of a spell-casting party. The process was simple: anointing the head of their Shkreli effigy with oil was meant to rid the real-life pharma bro of his ego. Anointing the place where a wallet is usually stored was meant to cause Shkreli to have to pay, financially, for the damage he has done. Binding of the throat of the second effigy was done to stifle Shkreli's voice so the truth could be heard.
It's still less violent than what Jake Tapper suggested!
[image via screengrab]
For more from Lindsey, follow her on Twitter.
Have a tip we should know? tips@mediaite.com