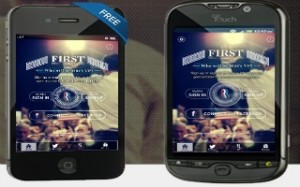 The Romney campaign is launching a mobile application called "First," which will let users know the second that Mitt Romney decides who his running mate will be. That app is unlikely to be an especially helpful tool for mobile users given the fact that most smart phone owners already have an app that lets them learn who Romney's VP will be the minute it happens – the internet.

RELATED: Typo or Loophole? Romney Campaign Offers Chance To Meet Mitt's 'VIP'
"Users of the app will be the first to get the news on the biggest political decision of the year through an instantaneous alert on the one device most people carry around the clock – their phone," writes Romney camp Digital Director Zac Moffatt.
And then what? Okay, let's assume that the user of this app actually gets a notification on their phone femtoseconds before the news is out and the press plasters it at the top of every media outlet on earth.
The best part is that App users will be able to post the news to Facebook and Twitter – but the time elapsing between when the user learns the news and can mobilize their synapses to create the impulses required to get their finger over to the share button, 47 of their friends will have already beat them to the social media rodeo.
What's more, speculation suggests that one of the more uninspiring candidates is running ahead of the pack to be Romney's veep selection. What if, sometime in late August as speculation builds to a crescendo, and your phone rumbles – you know this is it – and you look at your push notification only to read the name "Rob Portman." The synchronized groans will be audible from space.
The vice presidential selection, especially in an incumbent year, is the most watched news story in a year of news stories – usually occurring after a Dust Bowl-sized news drought in August. No one needs an app to know who the vice presidential candidate will be.
> >Follow Noah Rothman (@Noah_C_Rothman) on Twitter
This is an opinion piece. The views expressed in this article are those of just the author.