To Win Over Utahans, Trump Repeats 4-Year-Old 'Democrats Booed God' Lie in Deseret Op-Ed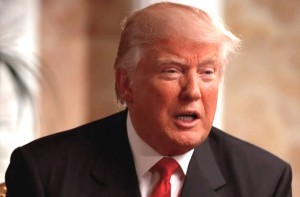 In an op-ed published Monday in the Salt Lake City daily Deseret News, Donald Trump attempted to prove his sincere commitment to religious Utah voters by unearthing the four-year-old fabrication that Democrats booed God at their 2012 convention.
Trump wrote:
As recently as their convention in Charlotte, N.C., in 2012, the Democrat delegates overwhelmingly booed when the presiding official asked to have the word "God" put in front of the phrase "given talents."
This long-debunked fiction has its basis in a contentious procedural vote at the 2012 DNC.
Addressing the convention minutes before this "booing God" episode is purported to have taken place, former Ohio Gov. Ted Strickland said, "I am here to attest and affirm that our faith and belief in God is central to the American story and informs the values we've expressed in our party's platform." Nobody booed.
Strickland then made a motion to amend the party platform to affirm that "Jerusalem is and will remain the capital of Israel" and to restore the phrase "God-given potential." A voice vote ensued; again, nobody booed.
The boos occurred later when then-DNC chair Antonio Villaraigosa affirmed that the "ayes" had the vote by a two-thirds majority (after holding the vote three times), even though it is clear to many that it was closer to a 50-50 split.
Josh Greenman wrote in the New York Daily News at the time:
And so, the "Nay"s booed the procedure, which asked them for their opinion and then ignored it.

They did not boo Jerusalem. They did not boo God.
You can see the video below, courtesy of C-SPAN, which shows that sequence of events.
It is unsurprising that Trump would feel the need to pander to religious Utahans by invoking this canard about God-hating Democrats. Trump won evangelicals to his side by promising to appoint socially conservative Justices to the Supreme Court and to repeal the Johnson Amendment. However, a recent New York Times article showed that that these efforts have not translated to support from Mormons and there remains widespread discontent with Trump among Mormon Utah voters.
Alan Rappeport reported:
With the Clinton campaign looking to put Republican-leaning states in play, the decision for many Mormon voters in Utah has become agonizing as they digest Mr. Trump's stances toward Muslims in light of their own history as an oft-maligned religion, and as his "America First" message repels well-educated Mormons who travel the world on missions and who welcome refugees.
Trump botched a recent play to win over Mormons when he apparently conflated Mormonism with evangelical Protestantism last week at a conference addressing evangelical ministers. "We're having a tremendous problem in Utah. Utah is a different place. Is anybody here from Utah?" he asked the ministers.
Donald Trump: "We're having a tremendous problem in Utah." Full video here: https://t.co/AC5vzVwxg7https://t.co/z4QloLvc75

— CSPAN (@cspan) August 11, 2016
According to a recent poll, Trump has a 12-point lead over Clinton in Utah, smaller than comparable polling from 2012 and 2008, in which Mitt Romney and John McCain had wider leads, respectively.
Democrats have not won Utah since 1964, though Trump's relatively poor polling is potentially putting the state in play this year.
Chris Karpowitz, co-director of Brigham Young University's Center for the Study of Elections and Democracy, told CNN, "Republicans begin any election in the state of Utah with an enormous advantage. But there are many Utahans who are very conflicted, and very ambivalent about his candidacy."
"There is a conflict between their political identity and some core religious values that they hold dear," Karpowitz added. "So when Donald Trump talks about a religious test for immigration or talks about refugees in ways that seem disrespectful or dismissive of their concerns or needs, that resonates with some members of the LDS church."
—
Sam Reisman (@thericeman) is a staff editor at Mediaite.
Have a tip we should know? tips@mediaite.com