Today in 'Why Would You Do That?' News: Man Decides to Eat Photo of Jason Segal Every Day
I get it, it's a strange headline — but it's absolutely accurate.
A YouTube user by the name of Dog Shit — yes, really — has earned favor in the loyal Reddit community for his rather strange publicity stunt: Eating a photo of actor Jason Segal and uploading the act directly to YouTube. The catch?
Dog Shit says he will eat a photo of the Forgetting Sarah Marshall star every day until Segal himself agrees to return the favor.
Yesterday marked Day 1 of the official challenge, with a 4:21 video uploaded that shows the man casually chomping away at a headshot of Segal as if it were a delicious HotPocket. The man stops intermittently to chug a bit of water to aid in the process, and he's completely silent otherwise except for the final seconds of the video.
Dog Shit stares dramatically at the camera, saying only, "Hey Jason," before a full-screen graphic of the hashtag #EATMYFACESEGAL appears.
In the video description, he includes the photo that he would like to see Segal eat in return for the stunt: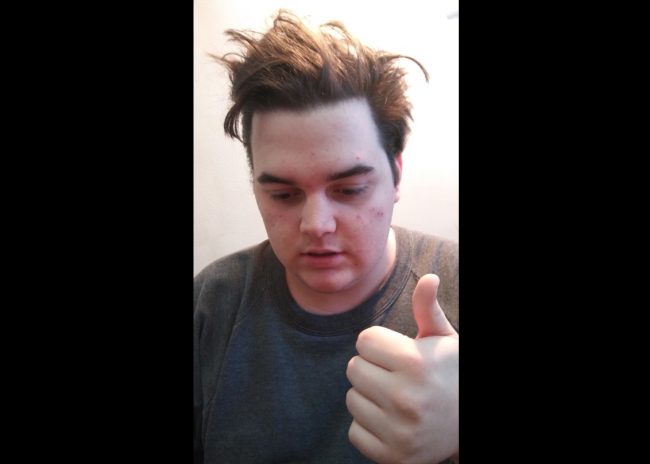 He uploaded the video to Reddit, and has been appropriately rewarded with a quick quarter million views in under 12 hours. Here are some of the best Reddit/YouTube comments people have left in response to the guy's bizarre challenge:
This is why we don't negotiate with terrorists.

I showed this to my mum and she told me that I'm "A fucking idiot for watching this shit" and to get a job. Thanks for that mate!

Probably gonna get downvoted but I don't care. This guy is crazy. I really thought I was going to laugh at this but I was just disturbed by it. Almost seems obsessive to me.

Then Jason Segel shows up to his funeral asking to say a few words. When the event is silent he just strolls over to the framed memorial picture, smashes it on the ground and begins to eat it piece by piece for the next grooling 34 minutes and 8 seconds. Basically, it'll be like when Ryan Gosling finally ate the cereal.

No introduction, no talking, no stalling. This is the perfect video of someone eating a picture of Jason Segel. I'm sick of those videos of people eating pictures of Jason Segel when they talk for 4 minutes before eating the picture. Straight to the point.

This is the epitome of culture. Everything we have done as the human race has lead to this video series. God bless you.

Don't fucking let me down. You better eat that face until he does. Don't commit to something you can't finish.

This video has restored my faith in humanity.

I'm only 23, but i think i might be too old to understand the internet these days.
But at least a few keen Reddit users noticed something specific about the paper used in the video. User jnnyfer notes, "Judging by the way it's ripping. It is definitely rice paper," adding, "I was a cake decorator for a few years and you can print pictures onto edible rice paper for cakes. It's stiffer in the printing process, and cracks and breaks really easily. When you place it on top of frosting it softens up and rips like regular paper."
And the reason for all this? We have absolutely no damn idea, but enjoy the young man's effort above, via YouTube.
Have a tip we should know? [email protected]