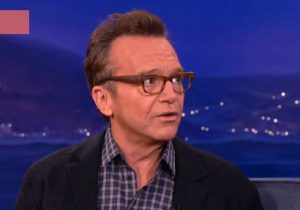 In the wake of the infamous Access Hollywood "grab 'em by the pussy" hot mic moment that nearly tanked President-elect Donald Trump's campaign in October, there were reports that outtakes from Trump's old show The Apprentice held even more embarrassing material, such as the real estate mogul using racial slurs and making extremely offensive remarks.
In fact, with producer Mark Burnett threatening to sue anyone who released any leaked video footage, you had folks like billionaire Mark Cuban offering to cover the $5 million legal penalty. Alas, nothing extremely damaging ever got released from Trump's time as Apprentice host. But, it appears that at least one person says the footage exists and that he actually has it.
Last week, comedian and actor Tom Arnold told a radio show in Seattle that he has "the outtakes to The Apprentice where he says every bad thing ever, every offensive, racist thing ever…I have that."
And if you were wondering if Arnold was joking, he told host Dori Monson that the main reason he hasn't released anything is because of the "$5 million confidentiality agreement" that will hit the editors and associate producer who sent out the tape.
However, that didn't stop him from saying what is in the show's outtakes.
Hundreds of people have seen these. It was sort of a Christmas video they put together. He wasn't going to be President of the United States. It was him sitting in that chair saying the N-word, saying the C-word, calling his son a retard, just being so mean to his own children. Oh, this is so funny, this is this guy.
Tom Arnold is friends with the new host of The Celebrity Apprentice, Arnold Schwarzenegger. The two starred in the 1994 blockbuster True Lies. He also told the show that Schwarzenegger's agent wanted him to release the tape in an effort to help Hillary Clinton.
For his part, Arnold doesn't think the tape's release would've hurt Trump in the end, saying that he thinks it would have made people like him more for being "politically incorrect." He also believes the outtakes will be made public in the future due to Cuban's promise to cover the penalty and employ those who release the tapes.
Listen to the audio of the interview above, via KIRO.
[image via screengrab]
–
Follow Justin Baragona on Twitter: @justinbaragona
Have a tip we should know? tips@mediaite.com