Too Soon: Utøya Island Movie Trailer Hits YouTube, Norwegian Survivors Outraged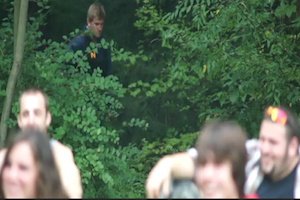 An American production about the Utøya massacre that killed 69 people is creating an uproar in Norway as survivors of the July attack are decrying the project.
The ultra-low-budget film dramatizing the murders, directed and produced by Russian-born Vitaliy Versace, drew strong rebukes from victims and Norwegian police. According to Norwegian TV station NRK, Utøya survivor Adrian Pracon called watching the production "difficult, painful, and unnecessary." "It is important to find a way to retell what happened," Pracon said. "But find seeing it [done in] this way is simply disgusting." A Facebook group condemning the film has garnered more than 44,000 members. The outcry has drawn widespread coverage in the Nordic press, but slim mention in the United States.
Executive Producer George Anton said his company could not stop the film as he was not in possession of the production's assets, and emphasized the film was a fictional account of the events. "Anton Pictures is not responsible for the production or the content but we support the distribution of the Trailer and the Behind the Scenes clips, to promote the complete abolishment of guns and closing all the gun manufacturing companies. Anton Pictures is behind the victims and their families and against discrimination of any kind."
Versace defended himself from the international outcry surrounding his film in a video uploaded to YouTube.
"As a filmmaker, I thought I should show the world what happened in Norway," Versace said. "And what could happen if we stopped selling guns to retarded people." He dismissed criticism that his project was too soon. "There is never too soon." Versace also erroneously criticized authorities for taking "72 hours" to arrive to the scene.
Most disturbing of all about the project are videos uploaded to YouTube of cast members laughing it up and calling the experience recreating the massacre "fun"! Are these people insane? I guess Schindler's List must have been a rollicking good time for all of the actors involved as well! Actually, no it wasn't, because that particular filmmaker made sure that great solemnity was taken during the production, something that Versace has obviously not done. The creator of this project is blatantly exploiting Norway's greatest tragedy for profit and everyone involved in the production should take a long, hard look in the mirror.
This disgusting film deserves to be relegated to being sold out of this guy's trunk and never given the light of day. Americans who stand in support of Norway, who are still recuperating from their worst terror attack, should condemn this tripe.
Watch the unbelievable trailer below:

Have a tip we should know? tips@mediaite.com