Top ISIS Commander Says Trump's 'Utter Hate Towards Muslims Will Make Our Job Much Easier'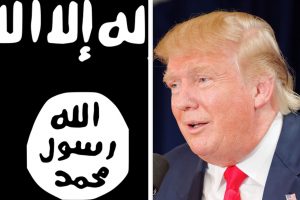 As then-candidate Donald Trump demonized the global population of Muslims on the campaign trail — at one point infamously calling for the "total and complete shutdown" of Muslims entering the United States altogether — one of the chief complaints from critics was that his language actually empowered terror groups.
The logic behind the thinking was that groups such as the Islamic State largely peddle a brand of marketing aimed at young recruits that depict the United States and the western world as the ultimate unwelcoming enemies of Islam. Trump's rhetoric, many argued, only played into that line of language.
And now that Trump has secured the Presidency, a top ISIS official has come forward to confirm that his rhetoric will be only advantageous to the group in its recruitment efforts.
"This guy is a complete maniac," said Abu Omar Khorasani, a top ISIS commander in Afghanistan, of President-elect Trump.
"His utter hate towards Muslims will make our job much easier because we can recruit thousands," Khorasani continued.
The ISIS leader noted that they followed the United States' presidential election, though they never expected that this would be the outcome. "Our leaders were closely following the US election but it was unexpected that the Americans will dig their own graves and they did so," he said.
A Taliban commander told Reuters that they carefully monitored Trump's anti-Muslim speech. "If [Trump] does what he warned in his election campaign, I am sure it will provoke Muslim Ummah [community] across the world and jihadi organizations can exploit it."
Then-candidate Trump campaign largely on a strong line he drew in direct response to attacks from ISIS or lone-wolfs inspired by the terror group domestically. Following the tragedy in Orlando at the Pulse nightclub that left 49 people dead, Trump remarked, "I said this was going to happen — and it is only going to get worse." Trump proved willing to say the phrase "radical Islamic terrorism," something he repeatedly harangued his Democratic rivals for not doing.
President-elect Trump has yet to reveal any plans for defeating terror groups like the Islamic State, opting instead for his penchant for "unpredictability."
He told Fox News in May 2015, "I don't want the enemy to know what I'm doing… All I can tell you it is a foolproof way of winning, and I'm not talking about what some people would say, but it is a foolproof way of winning the war with ISIS."
This led The Washington Post's Aaron Blake to surmise, "It's almost like Donald Trump's secret plan to defeat ISIS never actually existed."
—
J.D. Durkin (@jiveDurkey) is an editorial producer and columnist at Mediaite.
[h/t Reuters]
Have a tip we should know? tips@mediaite.com