Totally Fair and Balanced and Not at All Biased Fox News Chyron Reads 'Hillary in Hiding'
At this point, does Fox News' morning show still pretend that its peddling journalism?
With just 32 days to go before the election, the network's early birds seem to be abandoning anything that resembles fair coverage of the presidential race.
"Hillary, they're saying, is resting," said Ainsley Earhardt this morning on Fox & Friends at the start of an interview with Sean Hannity, who called into the show like his pal Trump usually does. "She's resting up for the debate. And Donald Trump is preparing — he's out there on the campaign trail."
Get it? She needs to rest while the vigorous, powerful, strong Donald Trump is "out there." Maybe most troubling was the on-screen chyron: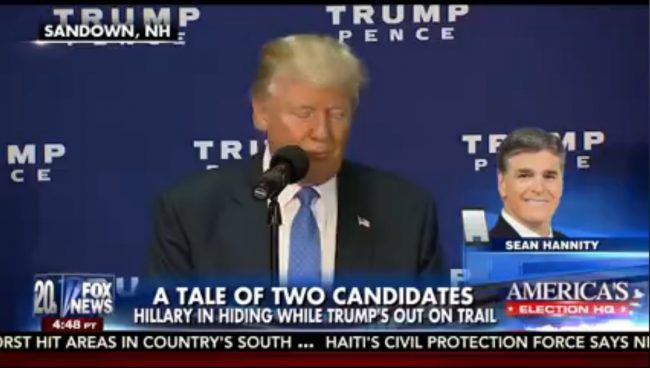 "Hillary in hiding while Trump's out on trail," it reads.
That sort of silliness would hardly be surprising from one of the blathering "surrogates" the cable networks welcome onto their airwaves. But the on-screen chyron? Oh, and did I mention that Earhardt's line of "Hillary, they're saying, is resting," comes from Donald Trump himself? Last night in New Hampshire, the GOP nominee said:
"I said forget debate prep. I mean, give me a break. Do you really think that Hillary Clinton is debate-prepping for three or four days? Hillary Clinton is resting, okay?"
So, the "they" Fox & Friends "cited" this morning isn't a "they" at all, it's from the false dribble that their candidate of choice spouted off at last night's town hall, an event that Olivia Nuzzi of The Daily Beast called "make believe" and "fake." Even The Washington Post called it, at best, a "friendly town-hall audience," where — and this is true — "Some added words of encouragement for Trump to their questions."
Added words of encouragement for Trump to their questions? What was it, an episode of Fox & Friends: Live?
On the contrary, the former Secretary of State is not resting; although she's off the campaign trail, she is instead focusing her resources on vigorous debate prep; CNN's Tom Kludt and Dan Merica write, "Clinton will hunker down with a select group of aides later this week to refine her attacks on Trump and prepare for the added level of difficulty created by a live audience that asks questions."
Alas, why should facts matter when Fox's morning viewers can picture Hillary Clinton locked in a bunker too afraid to show her face like a liberal coward while Donald Trump ascends to Mount Olympus with the zeal, stamina, and temperament of Ronald Reagan's ghost? Fair, balanced.
UPDATE 11:32 a.m. EST: We received a tip from an astute reader who pointed out that the Fox News chyron above that reads A TALE OF TWO CANDIDATES looks awfully similar to this official Donald J. Trump press release from earlier this week…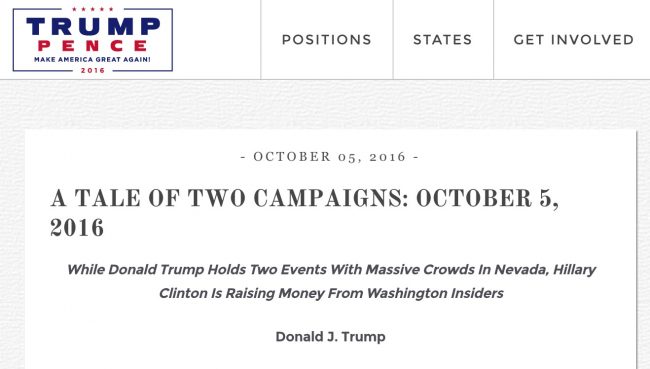 —
J.D. Durkin (@jiveDurkey) is an editorial producer and columnist at Mediaite.
[image via screengrab]
This is an opinion piece. The views expressed in this article are those of just the author.