TPM's Josh Marshall Tweets Out Porno Link to Shock of Political Media World
Josh Marshall of Talking Points Memo fame is an equally well-regarded and well-known journalist in our industry; he boasts a Twitter account of 164K followers (with an indefatigable 113K tweets to his history) on left-of-center issues, but is hardly known as a sharp provocateur.
So imagine the shock that swept across the faces of people in the world of political media late Friday night when Marshall tweeted out a PornHub link called "Angela & Strawberry."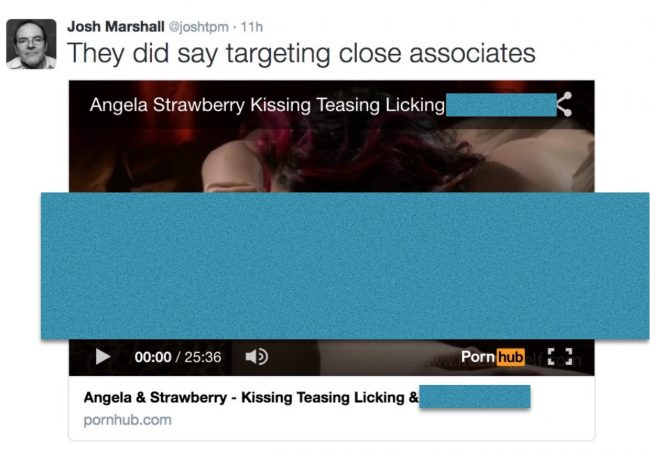 Note: I just as easily could have embedded the Tweet — considering it hasn't been deleted — but the preview image is graphic and to be honest I don't know the Mediaite Style Guide for handling full-on lesbian porno, so I've blocked it out and screengrabbed it above. If you're so inclined, feel free to visit @joshtpm.
"They did say targeting close associates," Marshall wrote at his 11:38 p.m. EST Tweet.
Immediately, people assumed a hack or a botched copy-and-paste effort of some kind, with political media colleagues alleging all sorts of guesses as to the bizarre and stirring content.
.@joshtpm CTRL V should only be used by the practiced

— Luke Savage (@LukewSavage) December 31, 2016
@joshtpm Whaaaaa?

— Dan Savage (@fakedansavage) December 31, 2016
@CDMatthewMurphy No better way to end 2016.

— Pedro da Costa (@pdacosta) December 31, 2016
Has @joshtpm been hacked? (Or is there a subtle political subtext I'm missing, to that cunnilingus?)

— William Gibson (@GreatDismal) December 31, 2016
@joshtpm hey Josh not sure if you meant to tweet that? Lmk

— Ashley Feinberg (@ashleyfeinberg) December 31, 2016
@joshtpm I did not expect that pic.twitter.com/PaIy65YgOH

— Alex Parker (@AlexParker) December 31, 2016
Hysterically, some Twitter users late Friday night noticed that PornHub itself even Retweeted Marshall's note:

Also, no one knew exactly what the hell Marshall meant with his bizarre line of text. And as the minutes went on, the Tweet never disappeared; instead, the TPM head retweeted several others who seemed confused by the stunt. When one user asked, "So, it's been a while and @joshtpm still has that tweet up there. Hack or did I just miss the point?" Josh Marshall responded directly:
And sure enough, the tweet that immediately preceded the Angela & Strawberry head-scratcher was a POLITICO article featuring Kellyanne Conway: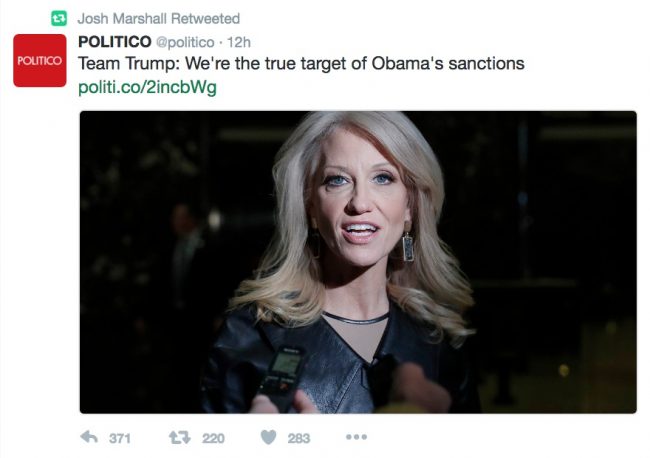 The piece from Louis Nelson detailed the Trump transition team alleging that President Obama's sanctions against Russia this week were done, "to quote 'box in' President-elect Trump," as Conway put it, instead of punishing the Kremlin for election interference.
Marshall's satiric (I guess?) response, then, was the PornHub link that quickly was shared and heavily-debated. But in case the story isn't strange enough already for you, the comments section for the PornHub video itself has devolved into political commentary surrounding Josh Marshall's porno politics.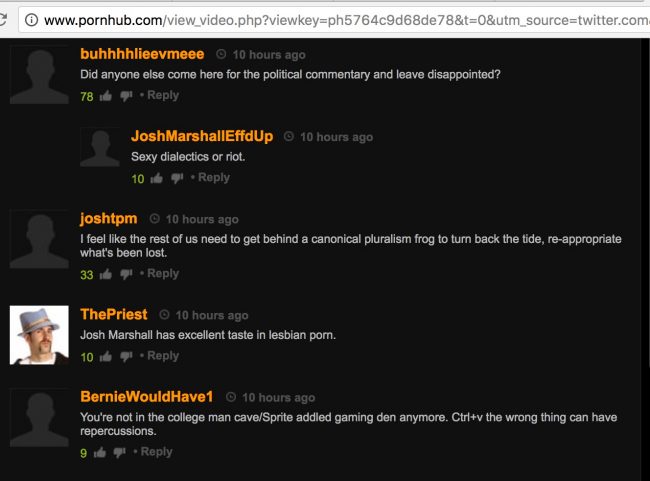 And to think, fans of Angela & Strawberry are simply tuning in just to catch up on the latest episode and are instead getting bombarded with progressive politics. The whole comments section on PornHub is now littered with Talking Points Memo fans writing, "Josh sent me here!" What a world.
One user with the same handle as Marshall's wrote, "I feel like the rest of us need to get behind a canonical pluralism frog to turn back the tide, re-appropriate what's been lost." We emailed Marshall for comment and follow-up and will update this space if we hear back.
Is it 2017 yet?
UPDATE: 7:35 pm EST: Marshall has responded to intrigue surrounding the incident:
Got an email form Eve Peyser at Gizmodo asking about my tweet last night. Here's what I sent her. pic.twitter.com/SOTbta2cP6

— Josh Marshall (@joshtpm) December 31, 2016
—
J.D. Durkin (@jivedurkey) is an editorial producer and columnist at Mediaite.
Have a tip we should know? tips@mediaite.com