Trump Adviser: Obama's Sunday Night Address 'Disrespectful' to American Jews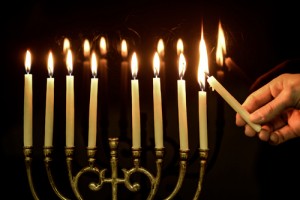 A senior campaign adviser to Republican presidential candidate Donald Trump suggested that President Barack Obama's Sunday night address was "disrespectful" to American Jews since it interrupted the first night of Hanukkah. Instead, he suggested Obama's address should have occurred on Friday or Saturday — smack-dab in the middle of Shabbat.
Daniel Scavino, Jr., who's been in the news before for other dumb things relating to Twitter, tweeted his comments the hour before the White House's rare live address from the Oval Office. Per his logic, Scavino thought the broadcast's timing was "disrespectful" because it fell on "the first night of Hanukkah." Instead, he thought the address should have occurred "on Friday or Saturday evening."
So what's the problem? According to BuzzFeed, Scavino's suggestion that the address occur on Friday or Saturday evening so as not to offend American Jews… would have offended American Jews. That's because "Hanukkah is a holiday of minimal religious significance to Jews," whereas "Shabbat, which begins on Friday night and ends on Saturday night, is very important to Jews."
In other words, the senior Trump adviser tried to ridicule Obama by advising the address occur during a period of time that is significantly more important to practitioners of Judaism than an annual gift-giving event during the holiday season.
Amazingly, Scavino's original tweet is still up despite the many corrections that have been professionally (and not so professionally) thrown his way. So at least he's standing his ground.
[h/t BuzzFeed]
[Image via screengrab]
— —
>> Follow Andrew Husband (@AndrewHusband) on Twitter
Have a tip we should know? tips@mediaite.com