Trump: 'Are You From South Korea?' To Asian Student Born In Texas, Raised In Colorado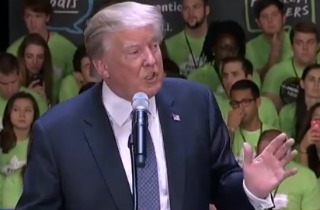 During his appearance at No Labels' New Hampshire Summit, Donald Trump had a somewhat-awkward moment when he appeared to assume that an Asian-American man asking a question about South Korea was, well, South Korean.
NPR reported that while he was doing Q&A, Trump took a question from Joseph Choe, an economics student from Harvard. Choe initially fumbled when asking his question, but eventually proceeded to question Trump about the claim he repeatedly makes that South Korea takes advantage of the US on economics and military protection.
Trump was able to guess Choe's school based on his hoodie, but he also asked whether Choe's interest in South Korea stems from having been born there. When Choe replied that he was born and raised in America, Trump shrugged off the awkward laughter from the audience.
Choe continued to say "no matter where I'm from, I like to get my facts straight, and I wanted to tell you that that's not true. South Korea paid $861 million." At this point, Trump cut him off again by on his familiar spiel about how America plays a major role in the economics and defense of other nations, and receives nothing in return.
Choe reportedly laughed things off later, and defended his attempt to ask Trump about his figures. "I don't care who you are, whether you're the prime minister or Donald Trump, if you say something factually wrong or do something factually wrong, I'll call you out on it," Choe said.
Of course, this wasn't the only awkward moment Trump had at No Labels.
You can watch the exchange in the video above, via C-Span.
[h/t Huffington Post]
[Image via screengrab]
— —
>> Follow Ken Meyer (@KenMeyer91) on Twitter
Have a tip we should know? tips@mediaite.com