Trump Assails Paul Ryan for Disloyalty, Alleges House Speaker Is Part of 'Sinister' Plot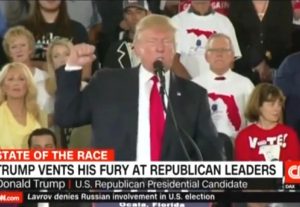 At a rally Wednesday in Ocala, Florida, Donald Trump attacked House Speaker Paul Ryan for his refusal to campaign for Trump, alleging that Ryan was part of a "sinister deal" to help Hillary Clinton get elected.
"You think that they would say, 'Great going, Don, let's go. Let's beat this crook. She's a crook. Let's beat her. We got to stop her.' He doesn't do that," Trump said. Later in the rally, he added, "There's a whole sinister deal going on."
After audio went public on Friday of Trump speaking in 2005 about assaulting and exploiting women, Ryan said he was "sickened" by what he had heard and announced that he would no longer actively campaign on Trump's behalf or defend him in public, investing his energy instead in down-ballot races and helping the GOP maintain its House majority in November.
Ryan stopped short of formally withdrawing his endorsement for Trump.
Since then the Trump war machine has been in full gear, waging battle against the highest elected Republican official in the country and any other Republicans who have withdrawn their support for the nominee. The Trump-aligned website Breitbart has been ordered to attack Ryan. Campaign manager Kellyanne Conway said GOP leaders were being "wishy-washy" and "pussyfooting" around, rather than coming out in unanimous support of Trump.
Trump has said he does not want or need Ryan's support, yet he has taken to Twitter repeatedly to criticize Ryan and other GOPers for their disloyalty.
—
[image via screengrab]
Sam Reisman (@thericeman) is a staff editor at Mediaite.
Have a tip we should know? tips@mediaite.com