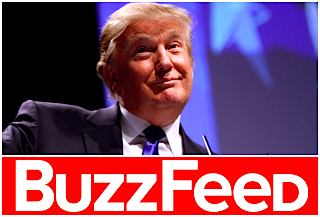 In case you missed it last week, BuzzFeed's McKay Coppins published an long-form piece titled "36 Hours On The Fake Campaign Trail With Donald Trump." Not surprisingly, Donald Trump was not too pleased with how it came out. He denounced the profile as "dishonest and unfair" through a spokesperson and even fired an aide who had suggested he give Coppins access. Tuesday afternoon, Trump took to Twitter to express his personal feelings about the whole thing.
Trump first linked to one of the few pieces to criticize BuzzFeed's treatment of him:
A legitimate article about me…http://t.co/E2d1qAdAhm

— Donald J. Trump (@realDonaldTrump) February 18, 2014
He then thanked The American Spectator writer who wrote that rebuttal, slandering BuzzFeed and Coppins in the process.
Thank you Jeffrey Lord for the great article discrediting third rate @BuzzFeed site & slimebag reporter McKay Coppins.@PiersMorgan @AmSpec

— Donald J. Trump (@realDonaldTrump) February 18, 2014
Bloggers like McKay Coppins & @BuzzFeed are true garbage with no credibility. Record setting crowds & speech not reported. @PiersMorgan

— Donald J. Trump (@realDonaldTrump) February 18, 2014
Though Trump didn't do Coppins the favor of using his Twitter handle in his attack, the BuzzFeed reporter still responded in quick fashion, subtly mocking Trump's "subtweets":
.@realDonaldTrump come on donald. subtweets? not cool.

— McKay Coppins (@mckaycoppins) February 18, 2014
Trump did, however, try to get Piers Morgan involved for some reason. So far, the CNN host has resisted the urge to take the bait, but if he does respond to The Donald, we will make sure to update this post accordingly.
[photo via Wikimedia Commons]
— —
>> Follow Matt Wilstein (@TheMattWilstein) on Twitter
Have a tip we should know? tips@mediaite.com