Trump Campaign Defector Takes 'Full Responsibility for Helping Create This Monster'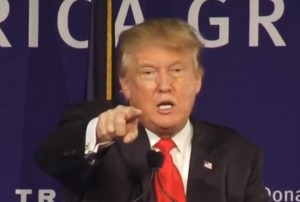 A former PR operative for the Donald Trump campaign published a contrite open letter Monday, expressing her sympathy with Trump supporters whom she says were, like her, hoodwinked by a candidate whose bid for the White House was never very serious — and is now turning dangerously plausible.
"I don't think even Trump thought he would get this far," Stephanie Cegielski wrote in a post published on XOJane. "And I don't even know that he wanted to, which is perhaps the scariest prospect of all."
Cegielski was communications director for the Trump-aligned Super-PAC Make America Great Again. She gave an interview to the Washington Free Beacon last week, in which she criticized the real estate mogul for his vitriolic remarks and lack of substance. She regularly mocks the candidate on her Twitter account for his ignorant and uncouth remarks.
"He certainly was never prepared or equipped to go all the way to the White House, but his ego has now taken over the driver's seat, and nothing else matters. The Donald does not fail. The Donald does not have any weakness. The Donald is his own biggest enemy," she wrote.
Her post continues:
What was once Trump's desire to rank second place to send a message to America and to increase his power as a businessman has nightmarishly morphed into a charade that is poised to do irreparable damage to this country if we do not stop this campaign in its tracks.

I'll say it again: Trump never intended to be the candidate. But his pride is too out of control to stop him now.

You can give Trump the biggest gift possible if you are a Trump supporter: stop supporting him.

He doesn't want the White House. He just wants to be able to say that he could have run the White House. He's achieved that already and then some. If there is any question, take it from someone who was recruited to help the candidate succeed, and initially very much wanted him to do so.
Cegielski argued that the onetime reality TV star has been playing a fictional character since he launched his campaign — albeit a fictional character that has succeeded in harnessing the very real and righteous anger of millions of voters. "We are all angry — and we all have a right to be," she concluded. "But Trump is not our champion."
Have a tip we should know? tips@mediaite.com