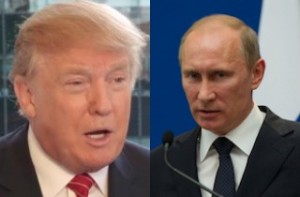 According to a report form The Washington Post, the Donald Trump campaign intervened during the drafting of the Republican platform to try to remove an anti-Russia and anti-Vladimir Putin amendment.
During last week's national security committee platform meeting, committee member Diana Denman introduced an amendment in support of Ukrainian opposition to Putin's invasion of Crimea and backing military aid to the country. "Today, the post-Cold War ideal of a 'Europe whole and free' is being severely tested by Russia's ongoing military aggression in Ukraine," the amendment read. "The Ukrainian people deserve our admiration and support in their struggle."
But Trump staffers in the room intervened. With the support of the pro-Trump delegates, they tabled the amendment to try to and block it later. Eventually they amended the amendment to remove Republican support for sending military aid, replacing it with language calling for "appropriate assistance." The end result of the watered down language, the Post reports, is that "the official Republican party position on arms for Ukraine will be at odds with almost all the party's national security leaders."
During the Republican primary race, Trump raised eyebrows for being the only candidate to express admiration of Putin; "I think our country does plenty of killing also," he said in defense of Putin's assassination of journalists. Trump's campaign chairman Paul Manafort previously worked as a lobbyist for Viktor Yanukovych, the pro-Putin Ukrainian leader who was deposed in an uprising in 2014.
[Image via screengrab]
——
>>Follow Alex Griswold (@HashtagGriswold) on Twitter
Have a tip we should know? tips@mediaite.com