Trump Campaign Reportedly Considering Funding the Wall With Seized Cartel Assets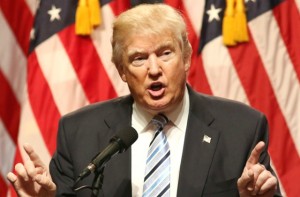 Donald Trump is apparently thinking outside the box on how to pay for that border wall, and part of the money may come from seized cartel assets.
Now, just to be clear on the sourcing of this, the news was reported by LifeZette, a conservative website run by Laura Ingraham. And not only is Ingraham an ardent Trump supporter, but she is informally advising Trump on the upcoming debates.
Here's the thinking behind this particular plan:
Advocates of the "make the cartels pay" plan believe it has the added benefit of punishing the "worst of the worst who bring violence to our streets and prey on innocent Mexicans and Americans," while giving political cover to both leaders to accomplish their objectives. Sources close to both the Mexican government and the Trump campaign have confirmed that this proposal exists, but wish to remain anonymous given the preliminary nature of the discussions.
This idea was apparently not discussed during Trump's meeting with the president of Mexico.
Now, giving some added weight to this report is Breitbart, which took note of how their former chief is Trump's CEO now:
Trump's campaign is now led by Stephen Bannon, the former head of Breitbart News who stepped down temporarily to run the campaign. Breitbart Texas' Cartel Chronicles project began under Bannon's leadership and the issue is dear to his heart. The project allows clandestine citizen journalists in several Mexican states that are under direct control from Los Zetas and the Gulf Cartel to have a platform to expose the evils of the transnational criminal groups and has a stated goal of warring with the criminals and exposing them for the purpose of ending them.
The Lifezette report adds that there could be a "joint border security fund" where cartel assets seized by Mexico and the U.S. are pooled together to help build the wall.
[image via JStone/Shutterstock]
— —
Follow Josh Feldman on Twitter: @feldmaniac
Have a tip we should know? tips@mediaite.com
Josh Feldman - Senior Editor