Trump Campaign Reportedly Hired Actors at $50 a Head to Attend Campaign Launch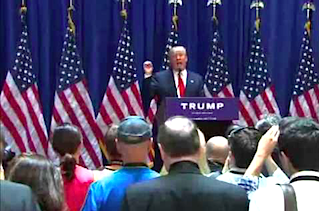 "There's never been a crowd like this," Donald Trump declared of the few hundred people gathered in Trump Tower on Tuesday to watch him announce his 2016 Republican presidential campaign. While that comment, among others he made, wasn't exactly true, we are now learning that some of those in attendance were likely paid actors.
The rumors began to swirl when Media Matters' Angelo Carusone posted an essay on Medium that included a since-deleted Instagram photo of two Trump "supporters" who attended the rally wearing what appear to homemade t-shirts and carrying makeshift signs: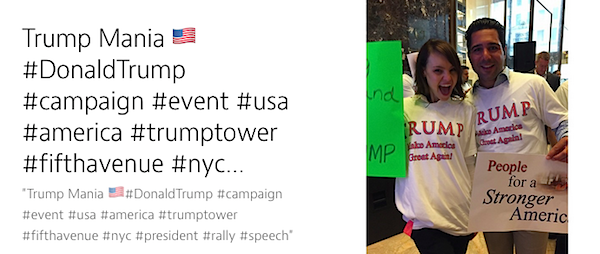 Carusone wrote:
The gentleman who posted the pic is a paid actor who regularly posts photos from his gigs on social media. This seemed like all the others from his gigs that he posts. Sure. It seemed fishy. But, but I figured that perhaps it was just a coincidence? Paid actors can support presidential candidates too. No big. I persisted in my incredulity at the thought that Trump might actually pay actors to attend his campaign launch.

Then I discovered the other person pictured in the photo is also a paid actress.
Ultimately, he discovered that a company called Extra Mile NYC helped the Trump campaign find actors willing to pretend to be supporters for a few hours in exchange for compensation.
Based off of this initial report, The Hollywood Reporter tracked down the actual email sent by Extra Mile to its subscribers, quoting the rate at $50 cash for those who showed up:
Hi there—

We are working helping one of are associates out at Gotham GR – http://gothamgr.com/ with a big event happening on TUESDAY 6/16/15.

This is an event in support of Donald Trump and an upcoming exciting announcement he will be making at this event.

This event is called "People for a Stronger America." The entire group is a pro-small business group that is dedicated to encouraging Donald Trump and his latest ventures. This event will be televised.

We are looking to cast people for the event to wear t-shirts and carry signs and help cheer him in support of his announcement.

We understand this is not a traditional "background job," but we believe acting comes in all forms and this is inclusive of that school of thought.

This event is happening LIVE and will be from 8:45AM-11:30AM. LESS THAN 3 HOURS

This will take place inside / interior.

The rate for this is: $50 CASH at the end of the event.

We would love to book you if you are interested and still available.

Please let us know and we will get back to you with confirmation.
Reached by THR, Extra Mile claimed not to know anything about the casting call. And similarly, Trump's campaign manager Corey Lewandowski outright denied the accusations.
"Mr. Trump draws record crowds at almost every venue at which he is a featured speaker," he said in a statement. "The crowds are large, often record-setting and enthusiastic, often with standing ovations. Mr. Trump's message is 'make America great again.'"
But given all of the evidence, the more likely scenario is that Trump's team wanted to take any precautions necessary to avoid the unfortunate optics that greeted him at CPAC in 2013:
Photos of Donald Trump Delivering His Self-Aggrandizing CPAC Speech to a Half-Empty Ballroom http://t.co/HwUnq9NTqL pic.twitter.com/M3YT6dMHD1

— Daily Intelligencer (@intelligencer) March 15, 2013
[Photo via screengrab]
— —
>> Follow Matt Wilstein (@TheMattWilstein) on Twitter
Have a tip we should know? tips@mediaite.com