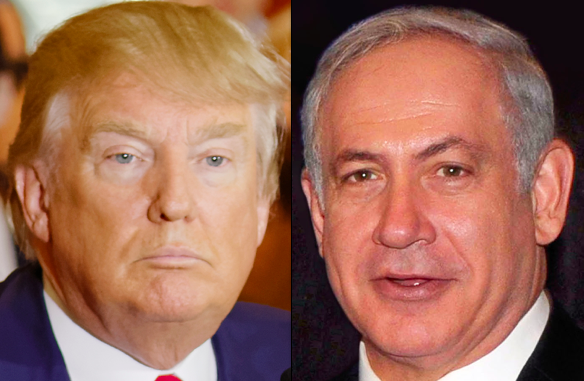 It seems like only yesterday that GOP frontrunner Donald Trump victoriously took to Twitter to proclaim to his 5 million+ followers that he would be visiting Israel. Actually, it was the day before yesterday — Tuesday of this week — that Trump did just that, making the following announcement:
Prior to the end of the year, I will be traveling to Israel. I am very much looking forward to it.

— Donald J. Trump (@realDonaldTrump) December 9, 2015
According to reports, Israeli Prime Minister Benjamin Netanyahu was set to meet with Trump in Israel during the visit on December 28th. However, as backlash continued to mount over Trump's controversial call to ban all Muslims from entering the United States this week, even Netanyahu denounced the real estate mogul's rhetoric. Yesterday the official Twitter account for the Prime Minister tweeted the following:
Prime Minister Benjamin Netanyahu rejects Donald Trump's recent remarks about Muslims. — PM of Israel (@IsraeliPM) December 9, 2015
Well apparently it's enough to make Trump cancel his trip to Israel altogether, and he took to Twitter just moments ago to announce that he would no longer be going at all:
I have decided to postpone my trip to Israel and to schedule my meeting with @Netanyahu at a later date after I become President of the U.S.

— Donald J. Trump (@realDonaldTrump) December 10, 2015
On Fox and Friends Thursday morning, Elisabeth Hasselbeck asked Trump if Netanyahu's denouncement played a role in the real estate mogul's decision to cancel his trip. Trump responded in part, "I'm in the midst of a very powerful campaign… I would say lots of different reasons," contributed to the decision. Trump admitted however that the meeting in Israel would put additional pressure on Netanyahu in light of Trump's Muslim ban proposal.
[images via Wikipedia Commons]
—
>> Follow J.D. Durkin on Twitter (@MediaiteJD)
Have a tip we should know? tips@mediaite.com